Standing Room Only for Sunday 1 February 2015
Crime Scene was produced and presented by Sonia Sly; the documentary won silver in the Culture and Arts category at the 2015 New York Festivals International Radio Program Awards.
The awards honour radio programming in all lengths and formats from radio stations, networks and independent producers from around the globe.
12:40 Resale royalties
Depot Artspace is putting on an exhibit called Pre-Loved Re-Loved which advocates that artists receive a resale royalty. So if a work is sold again after its initial sale the artist should receive a cut every time. But this is not a system that everybody is the art world is in favour of. Lynn Freeman is joined by Maggie Gresson of visual arts advocacy group Artists Alliance, artist Dick Frizzell, Paul Hartigan who is best known for his work with light sculptures, and painter and print-maker Nigel Brown.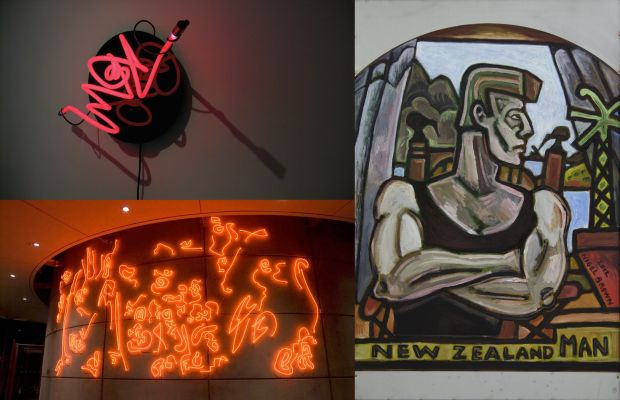 Top: Reubus 2010 and Bottom: Colony 2004 by Paul Hartigan
Right: New Zealand Man by Nigel Brown
1:11 Film with Kailey Carruthers
Kailey Carruthers filling in for Simon Morris, talks about Wild, Foxcatcher and the Alliance Française French Film Festival 2015.
1:28 Signing the treaty
The 175th anniversary of the Treaty of Waitangi has got a bunch of contemporary Maori artists thinking about what those who signed the document would have been feeling when they put their name or mark on the document. The New Zealand Academy of Fine Art invited artists to put those thoughts on paper, canvas and into weavings and sculptures for an exhibition called Signing. Lynn Freeman talks to curator Ann Philbin and artists Gareth McGhie and Suzanne Tamaki . 
1:46 Crime Scene
Matt Evans is always on the hunt for the perfect site – somewhere remote with no passers-by – the ideal place in essence, to find a dead body. Over recent years he has developed a fascination with crime scene photography, and now he is working on a project all of his own. Sonia Sly found herself on location with Matt in search for the perfect dumping ground.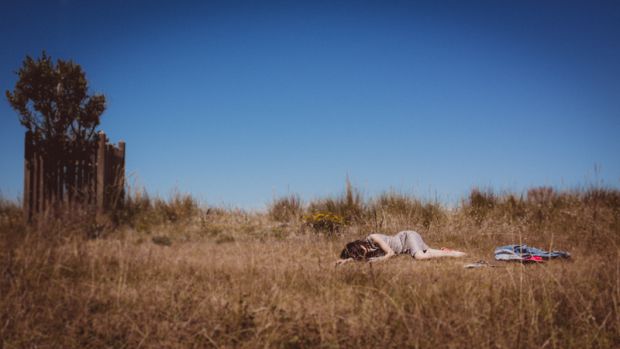 2:06 The Laugh Track – Hamish Parkinson
Hamish Parkinson is a nominee for the Billy T Award for comedy. Hamish is also a playwright, filmmaker, and contributor to Radio New Zealand's The Wireless website. Hamish and his fellow nominees are performing at Q Theatre in Auckland for Billy T Jams, and his play Prehistoria will be part of the Auckland Fringe. His picks are James Rogue, Saturday Night Live, Tig Notaro, and Emo Phillips.
2:25 Perpetuating Peter Pan
Shaun D Wilson speaks to Daniel Pengelly, director of The Court Theatre's new adaptation of Peter Pan, and Professor of English Literature at Victoria University Kathryn Walls about the enduring appeal of the boy who never grew up.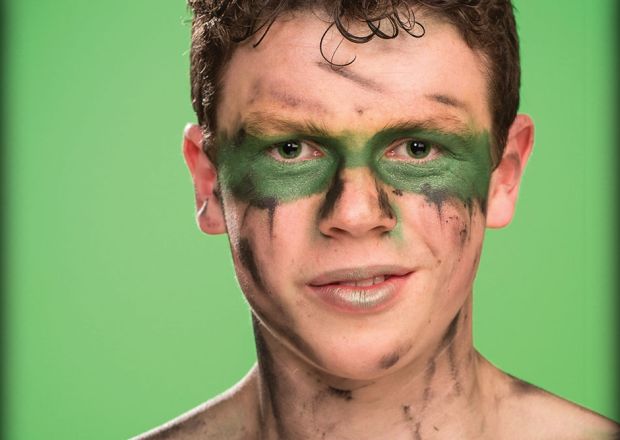 2:37 New Hokkaido
Wellington novelist James McNaughton's first novel New Hokkaido imagines a New Zealand that was conquered by the Japanese in the Second World War. New Hokkaido is published by VUP.
2:49 NZ On Screen – music festivals
Didn't get to go to Laneway? Missing the Big Day Out? NZ on Screen Content Director Irene Gardiner has been rifling through the archives to re-visit some of the legendary Kiwi music festivals of the past.
3:06 The Drama Hour       
Bravo, Neu Zeeland is a bilingual account of the adventures of two Waikato/Maniapoto Mäori and their journey to Austria 1859-1860. Written by Helen Hogan, featuring Rangimoana Taylor.
Music played in this show
ARTIST: Joni Mitchell
TITLE: Woodstock
COMPOSER: Joni Mitchell
ALBUM: Ladies of The Canyon
LABEL: Reprise PLAYED AT: 12:12
ARTIST: Pez ft. 360 & Hailey Cramer
TITLE: The Festival Song
ALBUM: A Mind of My Own
LABEL: Soulmate/Inertia PLAYED AT: 12:36
ARTIST: Eric Burdon and The Animals
TITLE: Monterey
COMPOSER: Burdon, Weider, Jenkins, McCulloch, Briggs
ALBUM: The Best of Eric Burdon and The Animals
LABEL: Polygram PLAYED AT: 12:59
ARTIST: Scouting For Girls
TITLE: Glastonbury
ALBUM: Greatest Hits
LABEL: Epic PLAYED AT: 1:10
ARTIST: Pulp
TITLE: Sorted for E's & Wizz
COMPOSER: Cocker, Banks, Mackey, Senior, Doyle, Webber
ALBUM: Different Class
LABEL: Sony PLAYED AT: 1:28
ARTIST: Brooke Fraser
TITLE: Coachella
COMPOSER: Brooke Fraser
ALBUM: Flags
LABEL: Sony PLAYED AT: 1:42
ARTIST: Adam Buxton
TITLE: Festival Song
COMPOSER: Adam Buxton
ALBUM: Song Wars Volume 2
LABEL: Dreamboat PLAYED AT: 1:57
ARTIST: Edwyn Collins
TITLE: The Campaign for Real Rock
COMPOSER: Edwyn Collins
ALBUM: A Casual Introduction 1981 to 2001
LABEL: Setanta PLAYED AT: 2:07
ARTIST: Nambassa Song (Rec. 1978)
TITLE: Chapman & White
ALBUM: Festival Music From the 1979 Nambassa Festival
LABEL: Stetson PLAYED AT: 2:57
ARTIST: David Bowie
TITLE: Memory Of A Free Festival
COMPOSER: David Bowie
ALBUM: David Bowie
LABEL: EMI PLAYED AT: 3:58