RNZ apps for iPhone and Android
RNZ app for iPhone and Android
In July 2017 RNZ released a new app to the iTunes and Google Play stores.
With the app you can follow breaking local and international news, listen live to your favourite RNZ radio stations and programmes, and enjoy video or audio on demand - anytime, anywhere, online or offline.
The app includes bookmarking, favourites, sharing and ways to personalise your experience – including a great new play queue and player.
The all-new build eliminates crashes and bugs and ensures audio play reliability, and live streaming sounds better than ever.
The app is free and 100% ad-free.
"Fabulous, love it! And absolutely love no ads!!!"
~ Stephanie
New features and highlights
Get breaking news alerts, video and live coverage on a homepage news feed
Listen live to all RNZ's radio stations – National, Pacific and Concert - plus the latest RNZ news bulletins, live blogs and live-streamed video
All-new build eliminates crasher bugs and ensures audio play reliability
Live streaming sounds better than ever
New design is clear and simple to use
Easily discover all RNZ's great programmes, podcasts and series, in their entirety
Add whole programmes, podcasts or individual audio items to your play queue for listening later or downloading for offline use
Favourite or bookmark to 'My RNZ' and easily find and listen to the latest content from all your favourite radio programmes
Listen offline without internet access
Browse RNZ stories by category or topic
Share stories via Facebook, Twitter, email and more
Use multi-tasking support to listen to RNZ while doing other tasks
The RNZ app is free and 100% ad-free
"Nice ui. Bulletins as well as conventional news stream. But best of all - no fluff and no ads."

~ Phil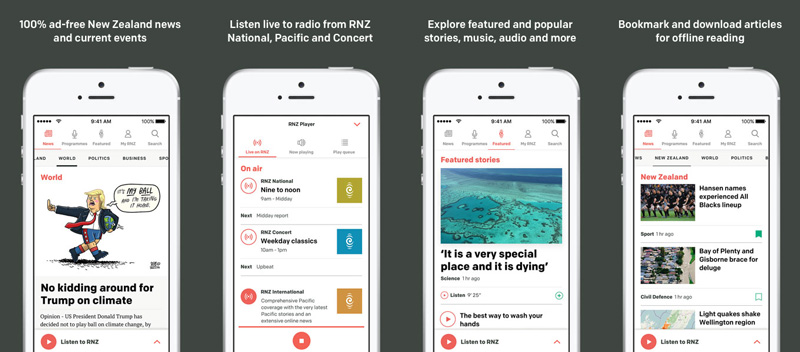 RNZ for iPhone
The iPhone app requires an iPhone, iPod touch or iPad running iOS 9 or above.
Get RNZ for iPhone from the App Store.
RNZ for Android
The Android app requires a device running Android 4.4 or above.
Get RNZ for Android from Google Play.
"Really well thought out layout and development. It puts all the other news apps to shame. Congratulations RNZ."
~ Mark
Data Use
The application streams audio over 3G and wireless.
Live streams are at 64 kilobits per second.
The amount of data used for RNZ National, RNZ Concert and the Parliamentary stream is approximately 500 KB (kilobytes) per minute or approximately 30 MB (megabytes) per hour. The exception is the RNZ Pacific stream, which is 250 KB per minute and 15 MB per hour.
Issues or questions
Visit this page for frequently asked questions, a glossary and a how-two guide to the app. Any other issues or questions can be sent to appproject@rnz.co.nz.
Read the digital privacy policy to see what information is gathered by RNZ on the app and other digital platforms.
The RNZ app was designed and developed in partnership with Alphero
"Great nz news app, nothing gets in the way. Push notifications for breaking news is really good."

~ codeofinterest
Looking for the VoxPop app instead? It's here. 
Ways to Listen
On the radio
Internet