Standing Room Only for Sunday 3 August 2014
12:39 Hutt Valley based ceramicist Robert Rapson

Arts Access Awards recipient Robert Rapson with Minister for Arts, Culture and Heritage Christopher Finlayson.
Robert Rapson has made thousands of ceramic ships over the past two decades. Last year he took out the Premiere Portage Ceramic Award for an ambitious installation about the romance of travelling by sea. This week he won the Arts Access Artistic Achievement Award for his contribution to ceramic art in this country, which he's done while living with clinical depression.
12:47 The Writers Lab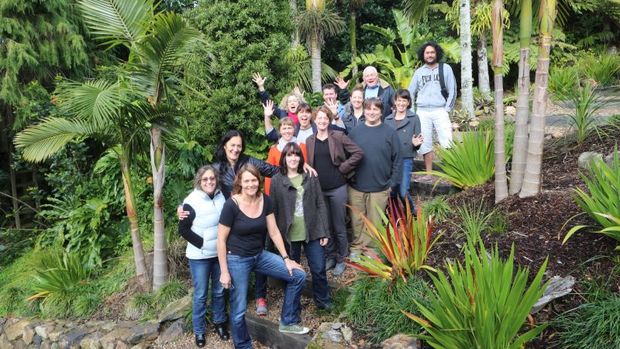 The last day of the Lab.
A few weeks ago we introduced a process that's increasingly familiar in the film industry around the world, but hadn't been tried here - until now. The Writers Lab offers the chance for six new scriptwriters to get valuable face-time with very experienced mentors, including Oscar-winner David Seidler of The King's Speech fame. So how does the Lab work? Find out from two of the selected writers, Nic Gorman and Gillian Ashurst.
1:10 At the Movies with Simon Morris
The new blockbuster Hercules, and the decidedly more modest Kiwi psychological drama Everything We Loved.
1:34 Stefano's Team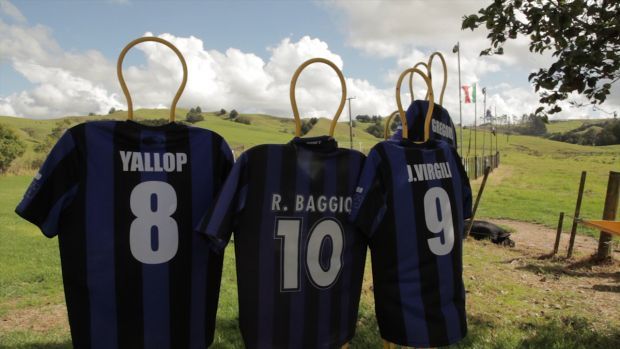 Still from Stefano's Team.
Stefano's Team is a documentary about a football mad Italian migrant, Stefano Virgili, who's brought his favourite game to rural Northland's Kaeo and through this has had a profound impact on the community.
1:47 Looking back on past Commonwealth Games
Irene Gardiner from NZ On Screen looks back at past Commonwealth Games where this country's punched above its weight. Here are the clips she'll be talking about:



2:05 The Laugh Track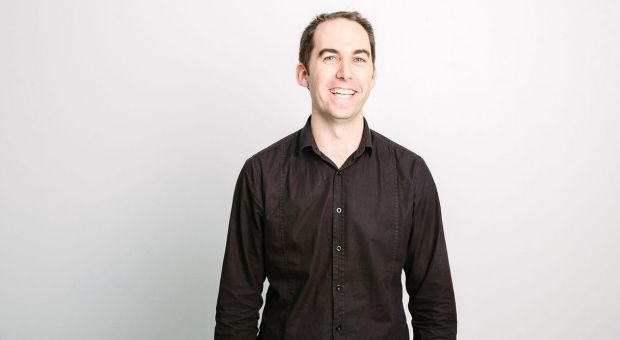 Ben Hutchison. Photograph by Simon Darby.
Actor Ben Hutchison shares his favourite comedy tracks, ahead of the premiere of his play Dog at Auckland's Basement Theatre.
2:26 Making Moves

Luke Hanna. Photograph by Stephen A' Court and the New Zealand School of Dance.
Luke Hanna refers to himself as a manly man who likes to dance. But although he's had an enviable international dance career, he still believes that there are still negative perceptions about male dancers.
2:38 Plum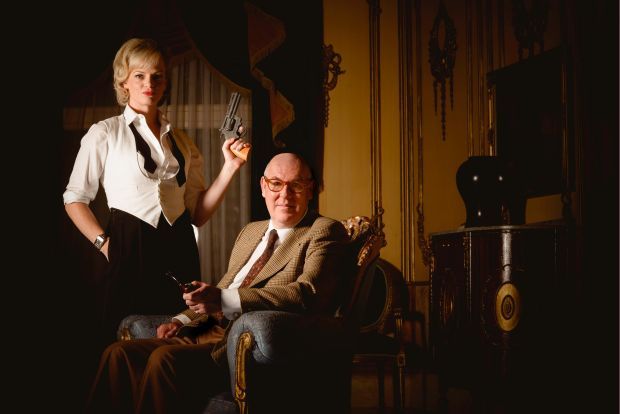 Laura Hill Muse and Colin McPhillamy P G Wodehouse.
At the end of World War Two, there was much celebration of war heroes, and a rather less attractive rooting out of people who'd "let the side down" - spies and traitors like broadcasters Lord Haw Haw, Tokyo Rose, and - of all people - beloved comic novelist P G Wodehouse. Christchurch's Court theatre is premiering Plum - a play looking at one of the less-likely stories of the war, and long-time Wodehouse fan Simon Morris talks to star Colin McPhillamy and director Ross Gumbley.
2:49 Erewhon
Samuel Butler's book Erewhon is now a feature film, but artist and filmmaker Gavin Hipkins hasn't adapted the utopian story literally in his photo essay. The film's been shown at the New Zealand International Film Festival and in Edinburgh.
3:05 The Drama Hour
An inter-galactic love story Earthlings Are Aliens Too, Encore - The Story of New Zealand Theatre continues, and more from Bard Fest: The Shakespeare Monologue Project.