Standing Room Only for Sunday 27 July 2014
12:39 Lexus Song Quest
The winner of this year's Lexus Song Quest, announced on Saturday night.
12:47 Dunedin's Great War
A new exhibition at Toitū Otago Settlers Museum looks at the effect of World War One on Dunedin and its people. Curator Seán Brosnahan and Exhibiton Developer Will McKee talk about the research that's gone into the exhibition. 
1:10 At The Movies with Simon Morris
Featuring Sex Tape, A Promise and The Broken Circle Breakdown.
1:34 Lara Strongman
The Christchurch Art Gallery is on track to reopen late next year, almost five years after the most devastating of the city's earthquakes put it out of commission. One of the key players in this important next step is Dr Lara Strongman who's the gallery's new senior curator. 
1:47 Constellations
A beekeeper and an astrophysicist form an unlikely relationship which is traced through parallel universes in Constellatons, a play which asks some of the big questions in science while keeping the audience grounded in what is essentially a love story. Concepts such as choice, control and certainty are all put under the microscope.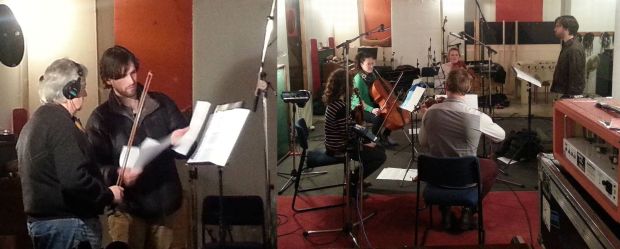 Left: Yury Gezentsvey, featured violin soloist and Principal Violinist NZSO with sound designer/composer Tane Upjohn-Beatson, Right: Quadrivium string quartet with Jonathan Tanner, Annabel Drummond, Alice McIvor, and Sophie Williams. Photos: Yael Gezentsvey
Written by Nick Payne, Constellations is a two-hander with the main characters played by Erin Banks and Richard Dey. Directed by Rachel Lenart, and with music composed by Tane Upjohn-Beatson, the production is billed as "One relationship. Infinite possibilities." It is playing at Circa Theatre from 26 July to 23 August 2014.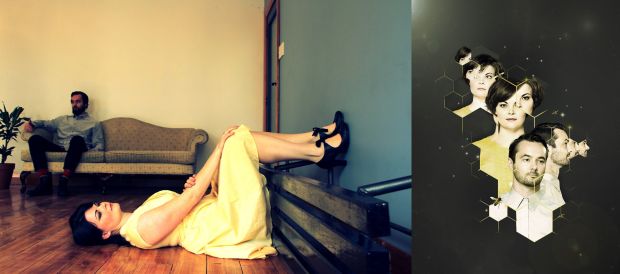 Left: Richard Dey and Erin Banks, Photo: Yael GezentsveyRight: Constellations poster – One relationship. Infinite possibilities, Photo: Anthony Hore
2:05 The Laugh Track
This week's guest is the very busy Auckland actor Joel Tobeck, star of the recent TV miniseries Hope and Wire.  His picks included Bill Cosby, Rowan Atkinson and the Flight of the Conchords.
2:26 Ethan Steifel
The outgoing Artistic Director of the Royal New Zealand Ballet – famed American choreographer Ethan Steifel – looks back on an eventful three years.   
2:38 Books – Gemma Bowker-Wright The Red Queen
Scientist by day and author by night, Gemma Bowker-Wright manages to do both very well indeed. She's won both the Sunday Star Times Short Story competition and the Katherine Mansfield Competition while balancing a day job is as a science analyst for the Government. Her first collection of short stories, called The Red Queen, has just been published by Victoria University Press.
2:49 Our Glasgow Opera Representatives 
Thomas Atkins and Amelia Perry are representing New Zealand in Glasgow, not in sport, but in opera. They are performing in a Scottish Opera production in Glasgow to accompany the Commonwealth Games – it is called Anamchara Songs of Friendship and features emerging artists from Commonwealth countries including New Zealand. Amelia Berry, is a soprano who's recently graduated from her studies in the USA, while tenor Thomas Atkins is studying at the Guildhall School in London.
3:05 The Drama Hour
A new short story, The Red Notebook, Geraldine Brophy weighs in with some all-women monologues in the BardFest, and the next chapter of Encore – The story of New Zealand Theatre.