Monday, 1 December 2014

Guru and his youngest son Ari at home in Kapiti
In my dairy I sell ideas, concepts and debates but I'm using the 'corner dairy' as an ethnic signpost that we have a view. Put it this way, I'm an ethnic person who has a view on all things Kiwi; on rugby, on anything - I'm the voice of Guru.
– Gurunathan Krishnasami on his column, Notes from a Corner Dairy, Kapiti News.
3:30 PM.City Councillor for the Parparaumu Ward, K.Gurunathan is a sharp-witted and passionate advocate for his patch of coast. Lynda follows Guru around Kapiti as he gathers signatures for a petition against… Read more Audio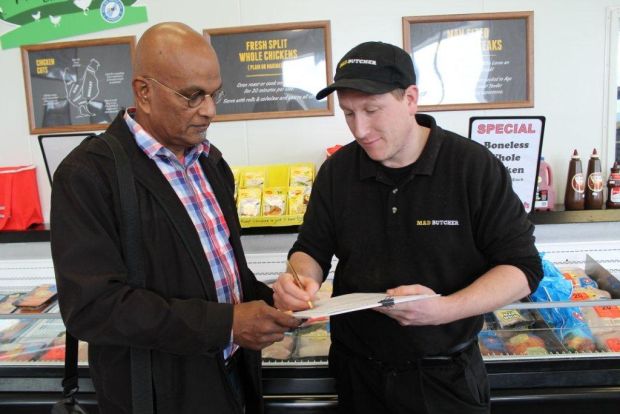 Bob Blake of the Mad Butchers in Kapiti signs
The first signature comes from Bob Blake, the franchisee for the Mad Butchers on Kapiti Road. Bob is a vocal and enthusiastic supporter of this petition and also of Guru.
We say no. Petition against the sale of legal psychoactive drugs. We the undersigned businesses in Kapiti Road West are totally against the Council's designation of our area for the sale of legal psychoactive drugs.
City Councilor for Paraparaumu Ward, Gurunathan (Guru for short) is on his way to collect the next signature for this petition. Right now, Guru tells me, 99% of businesses are against a proposal for the sale of legal highs in Kapiti.
I'm following Guru along the stretch of Kapiti Road as he garners support. One thing's for sure, this man is a passionate advocate for his patch of coast. He has a sharp-wit and sense of humor to match. His media campaign (four years ago now), saw Guru using bright-yellow billboards picturing just a pair of George Harrison style spectacles and the words 'Guru' to sell the concept of himself as a city councilor. It was obviously successful and as we trot down Kapiti Road it's clear that Guru continues to be popular amongst his constituents. 

Left: Guru with a work colleague at the Kapiti News offices. Right: Ray McCarthy, Owner, Operator the Bin Inn, Kapiti is happy to sign.
Oh, did he add that he is Malaysian Indian, totally bald and that his three children (grown now) describe him as the 'fat Mahatma Ghandi?' There's definitely a striking resemblance, albeit a rather well-fed version of one of the world's most famous pacifists and social activists.
A journalist for more than 30 years, the last 18 years with The Observer, Kapiti News and Beach FM covering local government, economic development, environment, Maori issues and the arts, he's used to speaking out - and taking flak. His views have sometimes got him into trouble - most recently about the controversy surrounding the land around the local airport.
But this is nothing compared to a really scary moment that came early in his career in 1989, in the form of the Chief of Police, Kuala Lumpur, when Guru was the Editor of The Rocket (Publication of the Malaysian opposition - The Democratic Action Party).
There was a massive crackdown on the freedom of press and using the Internal Security Act, the ruling Malay party saw the democratic opposition jailed and in total 108 people arrested. Nearly every newspaper was shut down but Guru kept on publishing The Rocket. Then Guru was called in to see the Chief of Police and told that they were watching him:
"How's the family?" he asked me politely. It suddenly hit me as I left, chillingly, this was a clear threat.
So did you leave? Did you come back to safety in New Zealand with your Kiwi wife Claire and your two children at the time?
No, I didn't. I stayed on, I was a member of a democratic rights campaign, so I stayed on but I wrote two letters, one to the NZ High Commission and one to a well known NGO Chair. I said if anything happens, my wife and children are Kiwi's and they have to be safe, they have to come back to New Zealand.
Almost a decade later in 1998, the very same Chief of Police, Abdul Rahim Noor, had the Malaysian Deputy Prime Minister Anwar Ibrahim beaten up, creating an international scandal at the time. The attack triggered street protests in Malaysia.
Born in Kuala Lumpar in 1952, K. (Guru) Gurunathan even comes with a weighty name. In Sanskrit and in biblical terms Gurunathan means 'prophet', so it seems like a self-fulfilling prophecy that Guru has worked for the press and broadcasting for years.
Radical thinking runs in the family for Gurunathan too. Gurunathan's grand-parents were indentured laborers in the rubber plantations. His family fled to Malaysia on the cusp of independence from the British and his parents broke the mold when they married outside of their Hindu caste system. One of ten siblings, mostly boys, Guru's family had always valued education as a means to break the cycle of indentured labour and inter-generational servitude.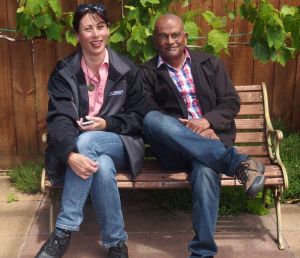 Encouraged to seek an education in New Zealand, Guru did his Masters in Political studies at Victoria University in the 1970's and married Kiwi Claire Thomas in 1980. They have 3 grown children born both here and in Malaysia. With his inherited sense of social activism, Guru found himself at the forefront of key moments in New Zealand's history, including protesting at Bastian Point in the late 1970's and running the gauntlet protesting the Spingbok Tour at the infamous Hamilton Games in 1981.
Back to the present and all fired up, we're chasing the next signature for the petition down Kapiti Road. I can't help wondering where this Guru of Paraparaumu gets all his feisty energy from, it must be in the name.
Guru and Lynda, photo by Frances Zaharias
Some Facts:
Gurunathan's illustrious career as a journalist has seen him as: Chief Reporter National Echo (Penang, Malaysia); Editor The Rocket (Publication of the Malaysian Opposition Party, The Democratic Action Party). Assistant Editor The Sun (Kuala Lumpur, Malaysia); Journalist The Kapiti Observer (Kapiti Coast, New Zealand),
Currently Guru writes the column Notes from a corner dairy for the Kapiti News, is a Journalist, BeachFM Radio and district councilor for the Paraparaumu Ward of the Kapiti Coast District Council.