Monday, 8 December 2014
In terms of contrasts; New Zealand is peaceful. You don't have to fight for things you actually own. You don't have to look for VIPS or what we call "wasta" (connections) to get things done. You email people to get things done which is easy. You should be proud of your environment, it's beautiful and you look after it. I'm looking at the negatives of our culture because when we go back [to Saudi] we are hoping to change things.
– Abdullah Alhaidari, Registrar at Wellington Hospital.
3:30 PM.From one of the wealthiest countries on earth and home to Islam's holiest site, the Saudi Students Association in Wellington find surprisingly different riches living here. There are around 7000 Saudi… Read more Audio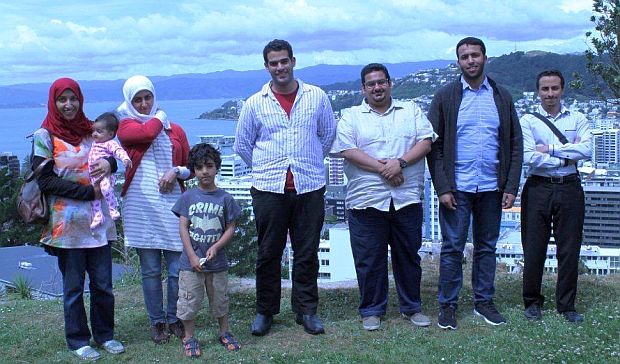 Fatimah Alsaif and her children, Fatimah Alghandi, Abdul Alhussini, Muhannad Ajoan, Omar Alsager and Abdullah Alhaidari
There were two women and four men in the group of six waiting to meet me in the seminar room specially booked at Victoria University, Wellington. The group have been bought together by the former president of the Saudi Student Association Abdul Alhussini (2012). There's a great cross-section of students, from a variety of disciplines and here for varied lengths of time. The first thing that greeted me was the aroma of cardamom tea, dates and almonds. Gracious as always, Arabian hospitality lives up to it's name.
Abdul has been here for six years, he says the biggest contrast for him is the secular nature of this country. Abdul does miss the atmosphere of the huge faith driven festivals like Haaj (pilgrimage) and other community based celebrations in Saudi Arabia but the growing population of Muslims in this country are helping bring back a taste of home, especially with festive events like Islam Awareness Week which see open days held at mosques around the country.
Muhannad Ajoan hails from Mecca. Just 2 months in New Zealand at the start of his studies he hopes to become an accountant. He has studied in Montreal so  the central and small city feel of Wellington is a bonus, lots to do but not too much distractions. The biggest contrast – going from 50 degrees celsius to 15 degrees (in summer!).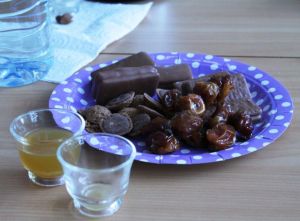 Omar Alsager hails from Reita the Capital of Saudi. He's doing a PHD in bio-research. He tells me that the standard of education here is outstanding. The most surprising thing about New Zealand for him was it's "entertaining" culture. I wasn't quite sure what he meant by "entertaining". Omar clarified that the secular nature of New Zealand makes the viewing of our different cultures entertaining.
Image: Cardamon tea and treats
Both women are named Fatimah. The first, Fatimah Alsaif, is a PHD student completing her thesis on interior architecture. She comes from a small city near the Arabic Gulf. She's also a mother to a six year old and 5 month old and has been here since 2007 with her husband (he's doing a specialty in ICU Medicine). She loves living here, has no problem with the cultural differences in our secular country but the biggest challenge for her was missing her family and the culture of home. When she first arrived she recalls being one of a tiny minority of Saudi women here.
The first year I came here there were barely any Saudi girls here. The first year I found it very difficult to live here without seeing many of my people. I missed my family and my culture. Now there are many more Saudi women, it's great.
The best things about being here?
Meeting other people and cultures, I'm interested to learn more about Maori culture. The people here are very kind and very helpful.
Abdullah Alhaidari has been here the longest, since 2001. He was part of the second wave of around 20 students from King Abdullah Foreign Scholarship Programme. Now there are 7,000 studying here. Currently a Registrar at Wellington Hospital, Abdullah is the most outspoken about the positives of New Zealand in contrast to Saudi Arabia.
It's a healthier lifestyle here. The roads are safer in this country. in Saudi around 20 people a day are killed on the roads. In some ways women are lucky they can't drive in Saudi because driving is a great stress, it's really dangerous. The food here comes without added sugar and salt, it's much more healthy.
The other Fatimah, Fatimah Alghandi is from the South of Saudi Arabia here since 2009. She has just finished her Masters Thesis in Developmental Studies, working with NGO's and other humanitarian organizations. Both women insist that they have not encountered any blatant examples of racism. Earlier times they were regarded with open curiosity and stared at because of their hijab (hair covering) and clothing but less so these days.
Fatimah Alsaif says that she really appreciates being in charge behind the wheel in this country:
Here in New Zealand I am independent, while in Saudi Arabia I'm dependent. So it's great to have all my documents, forms, papers done by myself, no need to be done by my father, brother or husband. The other thing is that I can drive my son to school, go to the supermarket, drive to get groceries myself when my husband is on call. When I am in Saudi I will be stuck in my house. I wish that the culture of Saudi would develop a little bit in terms of the independence of women.
With many students returning home for the break, this group are looking forward to returning next year with a mind to new academic challenges, new experiences and some enlightenment out of the ordinary.


Discussing how to help new students