Nine To Noon for Monday 9 February 2015
09:05 Call for independent tribunal for victims of abuse in state care
Advocates for victims of abuse while in state care say delays of up to 15 years in resolving historic claims are unacceptable, and they're calling for an independent Tribunal to be established.
Judge Carolyn Henwood is the Chair of the Confidential Listening and Assistance Service; Wellington human rights lawyer Sonja Cooper specialises in representing victims of abuse; and Garth Young is the Chief Analyst, Historic Claims for the Ministry for Social Development.
09:30 How mindfulness can help treat asthma
Dr. James Carmody is a New Zealander who's Associate Professor of Medicine at University of Massachusetts Medical School. He has extensively studied the effects of mindfulness training on brain structures. More recently, Dr. Carmody has measured the effects of mindfulness on asthma control. His team found long-term reduced use of rescue meds, and improvements in asthma quality of life, stress and anxiety, and the work now been funded for a wider study.
09:45 Europe Correspondent Seamus Kearney
Seamus Kearney reports on the urgent diplomatic efforts to stave off all-out war in Ukraine.
10:05 Canterbury neurologist and Pegasus Bay wine pioneer Ivan Donaldson
Ivan Donaldson is a former Professor of Neurology at the University of Otago School of Medicine, Christchurch. His eminent career in neurology has been paralleled by a life devoted to winemaking, and the business he and his wife Chris created out of their passion for wine is now a successful family company, Pegasus Bay Wines, in which three of the Donaldsons' four sons are actively involved.
In the 2013 New Year's Honours he was named a Companion of the New Zealand Order of Merit for his services to neurology. In 1977 he became the first dedicated clinical neurologist at Christchurch Hospital , where he helped establish departments for clinical neurology and neurophysiology.
He was head of neurology at Christchurch Hospital for nearly 20 years and is a past-president of the Neurological Society of New Zealand. He has been widely published in medical journals, and his most significant work is the internationally regarded Marsdens' Book of Movement. He has been on the board of the New Zealand Brain Research Institute since 2006 and established Friends of the New Zealand Brain Research Institute to raise funds for neurological research
Book: The Truant from Medicine by Ivan M Donaldson published by Random House
10:35 Book review: 'Five Minutes Alone' by Paul Cleave
Reviewed by Ralph McAllister. Published by Penguin.
10:45 The Reading: 'Swimming in the Dark' by Paddy Richardson
Serena, a 15-year-old Alexandra girl, is in deep trouble and needs help badly. A fast-paced story of three women and the meaning of courage (1 of 12, RNZ)
11:05 Politics with Matthew Hooton and Mike Williams
Matthew Hooton and Mike Williams discuss the Australian liberal party's leadership vote; the PM at Waitangi and the fight against Islamic State.
11:30 Traditional Scottish whiskey distillery to open in Wanaka
Former dairy farmer, Desiree Whitaker is opening a traditional Scottish whiskey distillery in Wanaka. But their main product, single malt whisky, will have to age in special oak casks for 10 years before it can be sold. In the meantime the distillery will be making and selling its own blends of vodka, gin and German-style schnapps using local stone fruit.
11:45 Off the beaten track with Kennedy Warne
Kennedy Warne explores the Olivine Wilderness Area, an 83 square km area of forest, rivers, lakes and mountains within Mt Aspiring National Park.
Gallery: Off the beaten track - Olivine Wilderness Area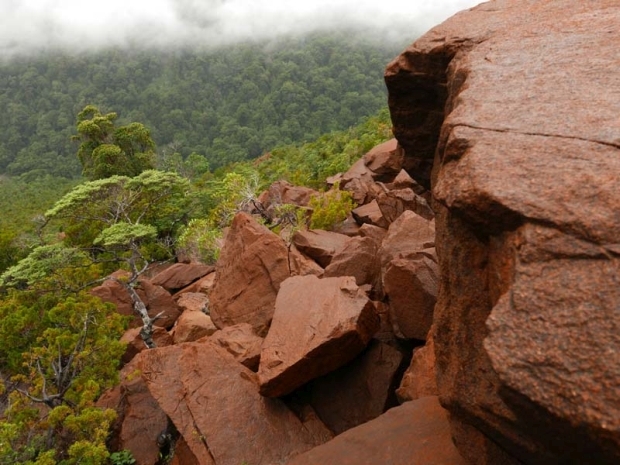 A feature of the Olivine Wilderness is a band of red ultramafic rock that outcrops as a range called the Red Hills. Travel through the wilderness entails crossing many rockfalls of massive sharp-edged boulders that sometimes tilt alarmingly as you step on them. Photo: Kennedy Warne.
Music played in this show
Artist:  Ella Fitzgerald
Song: Manhattan
Composer: Rodgers
Album: Garrick Gaieties
Label: Polydor
Time: 09:40
Artist:  Bic Runga 
Song: Counting the Days
Composer: Runga
Album: Beautiful Collision
Label: Columbia
Time: 10.46