Nine To Noon for Thursday 11 September 2014
09:05 Australia fears "likely" terror attack as US plans action on ISIS
The US President is to address the American people outlining his plan to combat the Islamic State insurgency waging war in Iraq and Syria. Meanwhile Australia is considering raising the nation's terror alert level to high within days - a signal that an attack in Australia is considered "likely".
Dr David Malet is Associate Director of the Melbourne School of Government and Senior Lecturer in International Relations at the University of Melbourne. He served as a defence and foreign policy aide to United States Senate Majority Leader Tom Daschle. His book, Foreign Fighters, is published by Oxford University Press.
Dr. Adam Lockyer is a Senior Lecturer in Security Studies at Macquarie University.
09:20 Conservative Party leader, and East Coast Bays candidate Colin Craig
In the latest 3news opinion poll the Conservative party was at four-point-seven percent. If it can reach 5 percent it will make it to parliament. 
Colin Craig says the Conservatives always do better at elections than in polls, and he's confident the party will be elected to Parliament.
09:45 UK correspondent Matthew Parris

10:05 The ancient clay tablet that re-intepreted the Noah's Ark story.
Irving Finkel is Assistant Keeper at the British Museum, where he is curator in charge of cuneiform inscriptions on tablets of clay from ancient Mesopotamia. In his new book, The Ark Before Noah: Decoding the Story of the Flood, Dr Finkel reveals how decoding the symbols on a 4,000-year-old piece of clay enabled him to make a radical new interpretation of the Noah's Ark myth, one that dates further back than the story's appearance in the Bible. The tablet reveals, among other things, instructions for building a large boat to survive a flood. Photo: Sang An
10:35 Book review: The Bone Clocks by David Mitchell             
Reviewed by Ralph McAllister. Published by Hodder & Stoughton RRP$37.99
10:45 The Reading: 'My Brother's Keeper', by Donna Malane
Diane Rowe is hired by Karen, an ex-con who was convicted of killing her son and attempting to kill her daughter. The same one she now wants Diane to find (Part 3 of 12)
11:05 New Technology with Sarah Putt
Apple's iPhone 6 announcement, 2degrees turns five years old, NZ Rise polls the political parties on their ICT policies.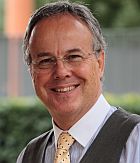 11:25 Ten conversations to have with your son
Dr Hawkes is an educator, author and social commentator, and has taught in England and Australia for more than three decades, most of the time at the helm of schools. Currently he's the headmaster of the all boys Kings School in Parramatta, Sydney. He says talking to teenage boys about love, identity, values, sex and money are vital in order to prepare them for adulthood. He has written a book titled Ten Conversations you must have with your son.
11:45 Film reviewer, Dan Slevin
Dan Slevin reviews Night Moves and Predestination. He also mentions a one off Auckland screening of one of the local documentaries that featured at the recent NZ Film Festival. The Inheritance screens at the Rialto next Wednesday and tells the story of a Wellington family dealing with the genetic inheritance that is Huntington's Disease.
Music played in this show
Artist: Crowded House
Song: I Love You Dawn
Composer: N Finn
Album: After Glow
Label: Capitol
Time: 9:25
Artist: Tift Merrit
Song: Sweet Spot
Composer: Merritt
Album: Travelling Alone
Label: YEP ROC
Time: 10:05
Artist: Otis Gayle
Song: I'll Be Around
Composer: Bell/Hunt
Album: Studio One Soul
Label: Soul Jazz
Time: 11.22