Afternoons with Jesse Mulligan for Friday 24 October 2014
1:10 Best Song Ever Written: Diamonds & Rust - Joan Baez, chosen by Iri Barber of Levin
1:20 NZ Live: with the New Zealand Guitar Quartet. They started up four years ago, and now perform here and overseas.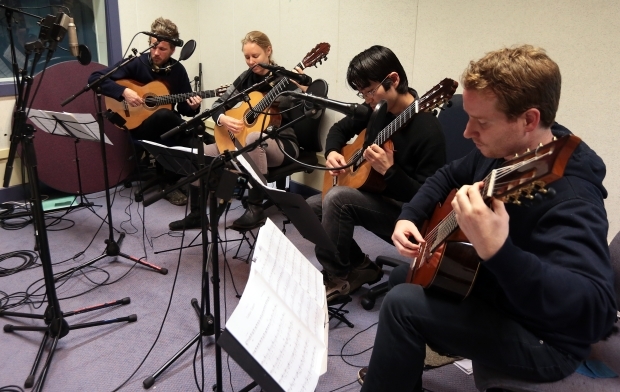 2:10 Water Safety - Rob Hewitt: Labour Day weekend signals the start of the boating season for many people. And with that, comes the message to stay safe on the water. One man keen to get that message out is Rob Hewitt. Rob is a maritime safety advisor and the lead tutor for Kia Maanu, Kia Ora (Stay afloat, Stay alive) campaign. He has his own history with the dangers of the water. On a routine dive trip off Mana Island in 2006, things went wrong, and Rob spent four days and three nights alone, floating in the sea before being rescued.
2:20 The Village Meats - Amelia Nurse: Michael and Lucy Law opened The Village Meats in Raumati Beach six months ago with the goal in mind to fill what they saw as a gap in the market: someplace where you could get free range meats with organic principles or certification, no chemicals or growth hormones and naturally fed. But they wanted to also sell at prices people could afford. Amelia Nurse visits to find out how business is going, and how to cut up a pig.
Links: NZ Society   Village Meats
2:30 NZ Reading: The final episode of  'Shaping Up'  written by Elspeth Sandys and features the voices of Jane Waddell, Tina Cook, Danielle Mason, Jessica Robinson, Phoebe Smith and David McKenzie.
MUSIC DETAILS      
'I Like it that Way', Comp. Erik Lundmark & Robert J Walsh, Hollywood Music  HM-041
2:45 Feature Album: Post Tropical -  Irish singer/songwriter James Vincent McMorrow  (2014)
3:10 Food, Wine and Movies: Award winning food writer, Julie Biuso with Real Hamburgers and a Spicy Tomato Chutney to go with it - Belinda Jackson, the wine - and Sarah McMullan reviews the jazz drama film, Whiplash - and the American World War Two movie, Fury, which stars Brad Pitt.
Wine Selections: Villa Maria Private Bin Hawkes Bay Merlot 2013 $15
The Sisters Sauvignon Blanc 2013 $15
Mud House Central Otago Pinot Noir 2013 $20
3:45 The Panel Pre-Show - Julie Moffett