Afternoons with Jesse Mulligan for Thursday 23 October 2014
1:10 Best song ever written
1:20 Simon's A to Z - Eastbourne
Steve Phillips:  Dragged bodies from the surf during the Wahine disaster, saw the world as an accountant, became a teacher of Te Reo Maori later in life and returned to Eastbourne to "retire".  RSA President, sailor, tennis player and committee member.  A stalwart of Eastbourne.
Mary Longmore:  Grew up in Eastbourne.  Couldn't wait to leave.  Returned there to raise her own family.
Warren Owen:  Stepping down as principal of Wellesley College after 33 years at the school and looking forward to centenary celebrations this weekend. 
2:10 Wasp research - Dr Bob Brown
A breed of mites may provide a solution to the South Island's huge wasp problem. It's believed the number of wasps in the South's beech forests is the highest in the world, with the insects posing a number of health, environmental, and economic risks. The prospect of mites cutting the wasp population came to light in a survey carried out by Landcare Research.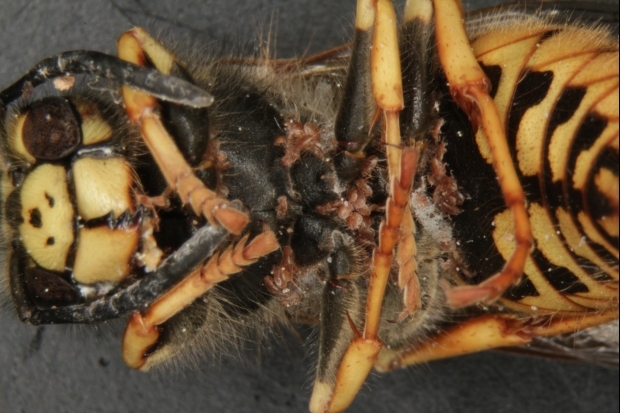 Heavily infested German queen wasp. Image © Dr Bob Brown.
2:20 Steam Incorporated - John Bovis
What may well be one of the highlights of the World War One commemorations is currently steaming its way across the North Island's railroads. It's the fully restored locomotive Ab608, which in 1925 was given the name Passchendaele, in memory of New Zealand railway workers who died in the Great War. Simon catches up with John Bovis from the charity Steam Incorporated.
2:30 NZ Reading.  Episode four of  'Shaping Up'  - Elspeth Sandy's light hearted drama looking at life in a women's gym.
2:45 Feature album.  The Delivery Man - Elvis Costello (2004).
3:10 The cost of bird-feeding - Josie Galbraith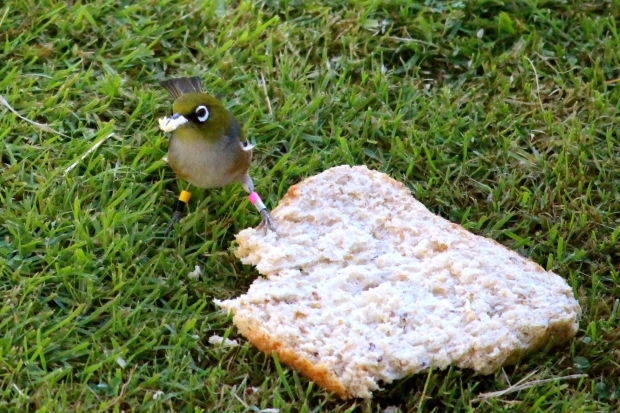 Image © Josie Galbraith.
You may not think that it costs a lot to feed the local birds, or that it's doing them any harm. But a new study out shows it's a habit that costs New Zealanders about $12.3 million dollars a year. It's the first-ever study of our bird-feeding habits. Auckland University PhD student at the School of Biological Sciences, Josie Galbraith, was involved in the research.

From left: © Josie Galbraith. Centre: © Matthew Szadkowski. Right: © Josie Galbraith.
3:20 1080 in Conservation - Alison Ballance
Battle for our Birds is the largest-ever pest-control operation in New Zealand, and it's using aerial drops of the toxin 1080 across 700,000 hectares of conservation land. Alison Ballance heads to South Westland to find out about a long-running research programme investigating the effectiveness of 1080 treatment in protecting native birds.
3:30 The Story of Dele Giwa - Alex Last from BBC Witness
In October 1986, during military rule in Nigeria, the campaigning Nigerian journalist and editor, Dele Giwa, was assassinated in Lagos. He was the founder of the investigative magazine Newswatch. We hear from his friend and colleague, Kayode Soyinka, who was with him when he died.  Stories from Our Changing World.
3:45 The Panel Pre-Show with Zara Potts, Jim Mora, Ali Jones and Selwyn Manning.