Afternoons with Jesse Mulligan for Tuesday 28 October 2014
1:10 Best song ever written. Every Woman Has A Name - Alice Cooper.  Nominated by Allan Davis of Palmerston North. 
1:20 The Critics.
1. TV review  -  Irene Gardiner
Downton Abbey - Prime, Thursdays at 8.30pm
Madam Secretary - Prime, Thursdays at 9.30pm
2. Books     -    Vanda Symon
"Reach" by Laurence Fearnley.
3 Music      -     Colin Morris   
ARTIST: Bellowhead                                      
TITLE:                    Let Union Be                    
COMP:  Trad: Arr - Jon Boden
ALBUM:               Revival                                 
LABEL:   UMG
ARTIST: Lucinda Williams              
TITLE:                    East Side Of Town                                                                           
COMP:  Lucinda Williams                              
ALBUM:               Down Where The Spirit Meets The Bone                                             
LABEL:   UMG / H2 001   
4. Web       -     Ele Ludemann
http://www.domestic-executive.com/
http://gardeningkiwi.wordpress.com/
http://www.iflscience.com/editors-blog/10-stuff-ups-we-all-make-when-interpreting-research
2:10  Wellington's tugboat sisters - Captain Charles Smith
Wellington's ladies of the sea will sail out of Wellington Harbour for good next month. The red tugboat sisters, Toia and Ngahue, have been on duty in the harbour for more than 40 years. And now, the CentrePort tugs have been sold and are heading out on a two-month voyage. Captain Charles Smith is the marine manager and chief pilot of CentrePort, Port of Wellington.


Wellington tugs Ngahue and Toia. Images courtesy of Captain Peter Stacey.
2:20  Earthquake research - Dr Ian Hamling
New research shows some Cook Strait faults may be less stressed and may now be further away from rupturing. A team of scientists studied the 2013 Cook Strait and Lake Grassmere earthquakes. And found that stress change on a fault caused by an earthquake, can indicate how much more likely it may be to rupture. Dr Ian Hamling is a GNS scientist and lead author of the research.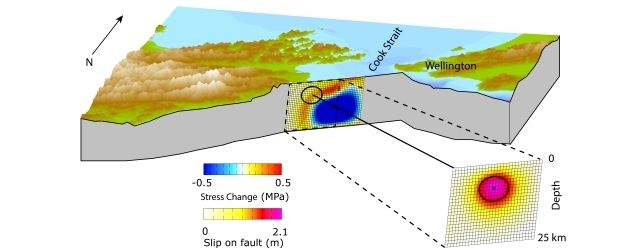 Image © GNS Science.
2:30 NZ Reading. Today we're beginning a 7-part adaptation of "Pomare" by Elizabeth Knox - A story of children growing up in Wellington's Hutt Valley in the 1960's.
2:45 Feature album. 1989 - Taylor Swift.
3:10 Feature guest. Professor Dan Jurafsky. The words on menus at restaurants reveal more than just what's for dinner. Stanford University linguist Professor Dan Jurafsky has studied almost a million menus and restaurant reviews. He says he can predict what a meal will cost just by the words on a menu.
3:30 Self Resetting Rat Traps - Alison Ballance. The Good Nature company has been developing self-resetting traps that they hope will become a valuable tool in the fight against introduced predators, both in New Zealand and around the world. To see the rat trap in action, Alison Ballance joins Robbie Greig on Wellington's South Coast, where a line of traps has been deployed as part of Places for Penguins, to protect breeding blue penguins.
Stories from Our Changing World.
3:45 The Panel Pre-Show with Jim Mora, Zara Potts, Sue Wells and Graham Bell.