Afternoons with Jesse Mulligan for Wednesday 15 September 2010
1:10 Best Song Ever Written
Life Itself by George Harrison as chosen by Annette Morgan from the Kapiti Coast,
1:15 Link 3 - music game
2:10 Feature story
The cooking school that inspired Julia Child is opening in central Wellington. Le Cordon Bleu is one of the world's premier culinary arts institutes with 29 schools on five continents. Late next year in the vacant Regent Centre in Manners Mall will be transformed into the cooking school with seven kitchens, a lecture theatre and a restaurant where the public can sample the students efforts. www.lecordonbleu.co.nz
For countless families in Canterbury, the earthquake sent china, crystal and other precious glass objects to the floor where they shattered. But Banks Peninsula artist Sarah Rutland says don't despair, and definitely don't throw those broken treasures away. They will never be the same, but they can be reshaped into a different treasure that can itself become a family heirloom.
See images of Sarah Rutland's work.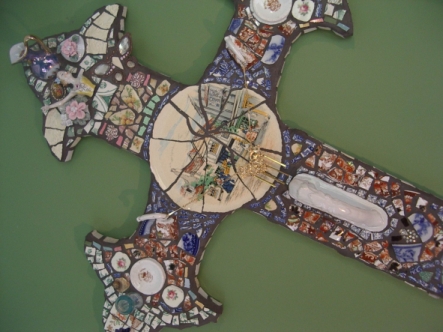 2:30 Reading
Mick Rose reads episode three of The Distant Man by Carl Nixon.
2:45 He Rourou
After 45 years living in Wellington, kaumatua Topsy Ratahi was very familiar with government bureaucracies, from the inside and the outside. Today we hear the last of our archival interviews between Wena Tait and Topsy Ratahi. Today the kuia talks about the browning up of bureaurcracies in the 1980s and '90s.
3:12 Virtual World
1. Facebook coordinates students to provide assistance after the Christchurch earthquake
2. The Web Is Dead. Long Live the Internet
Bits and Bobs
Parents use 'digital' grounding as a 21st century disciplinary tool
Gmail Priority Inbox Sorts Your Email For You
Introducing Wikileakileaks: Your Source for Wikileaks-Related Leaks
Melbourne computer hacker turned whistleblower extraordinaire Julian Assange is under pressure from within WikiLeaks to step down
3:33 Auckland story
It's almost ten years since the old pine tree on Auckland's Maungakeke One Tree Hill was removed. The radiata was estimated to be about 120-years old, it was planted on the summit by John Logan Campbell and damaged in a chain saw attack in October 1994. In October 2000 it had to be taken away .
John Logan Campbell named the hill One Tree Hill t for the big Totara tree that stood atop the hill… but that was cut down by some Pakeha bloke, or blokes. Sir John then tried to replant natives on the summit protected by pines, but only the pines survived. Now it looks as if we're much closer to having new trees on the top.
4:06 The Panel
Garth George and Peter Elliot.