Navigation for Station navigation
Kim Hill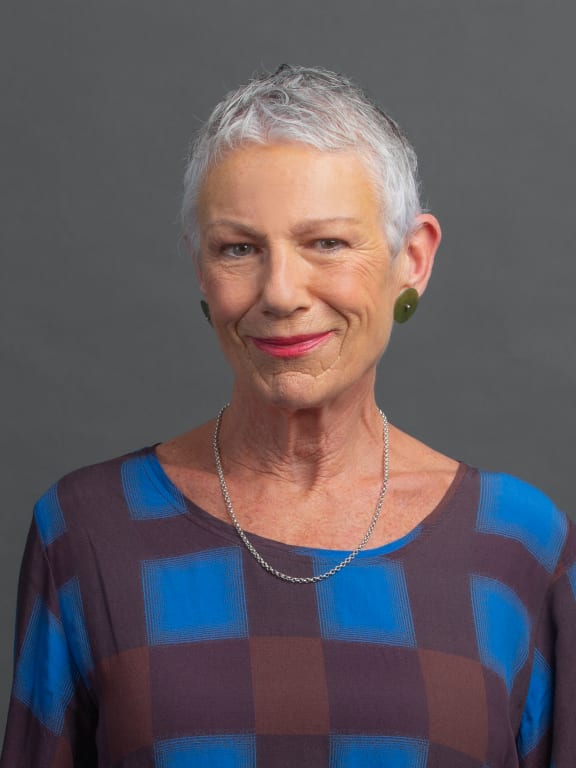 Host of Saturday Morning
So what is Kim Hill, unquestionably one of New Zealand's finest current affairs interviewers, really like? The answer, if you listen to her programme long enough, turns out to have been obvious all along. I think I'm just like the way I am on the radio. I mean, you haven't got time to put on a face, you haven't got time to pretend to be anything other than you are - otherwise, you'd drive yourself bonkers! So, in essence, what you hear on the radio is what you get in real life? Yeah, yeah. With a few expletives deleted.
She was born and raised in Shropshire, the English county bordering Wales, but her father was actually Irish – a veterinarian – and her mother was Scots, a physiotherapist and nurse. The family (Kim also has a younger brother, Iain) used to spend their holidays in Ireland, until an epidemic of foot-and-mouth disease in England prompted her parents to emigrate to New Zealand. Kim was just 15 when the family arrived in Otorohanga, and for a while, it was a bit of a culture shock. But gradually she adjusted, taking a BA in French and German at university (Massey and Otago) and then becoming a masseuse. A what? Those were the days when it was legit, therapeutic, she once explained in an interview: "nobody believes me!".
Kim was working as a barmaid, at the Sir George Grey hotel in Tairua, when she learned she'd been accepted for Canterbury University's Postgraduate School of Journalism. Oddly enough, it wasn't an easy choice for her to make – she'd enjoyed being behind the bar.
But off she went, joining Radio New Zealand in Gisborne after completing the Christchurch course. A stint in Greymouth followed, as did a period writing for the Nelson Evening Mail, before Kim arrived in Wellington to brandish her acerbic skills on the current affairs show, Checkpoint. Next came Morning Report, with Geoff Robinson, where she quickly gained a high profile for her probing, persistent style of questioning.
When Kim became the host of the daily morning programme Nine to Noon in 1993, it quickly became essential listening. In the nine years she was host, she interviewed thousands of people, and probably read as many books. Among her guests were the famous (the Dalai Lama, Nelson Mandela) and the infamous (Jeffrey Archer, Monica Lewinsky).
Kim began hosting the Saturday Morning show on April 20, 2002. This programme gives her the opportunity for expansive interviews with her guests – be they scientists, historians, theologians, psychiatrists, novelists, or just characters or high achievers – while also taking in some leisurely interests: food, classic literature and poetry, children's books and music.
In 2012 Kim Hill won the International Radio Personality of the Year (Association for International Broadcasting).
Judges described Kim Hill as: "an experienced and warm broadcaster exercising full control of her content whilst coaxing her guests to reveal more of themselves; really enjoyable live and sparky content that demonstrates what is great about radio and illustrates how important lightness of touch is in speech content."
Search results for Kim Hill