Kamarinskaya
8:01 PM.Tchaikovsky's first attempt at a symphony nearly drove him to a nervous breakdown, but none of that tension found itself into the symphony, instead the idea of winter seems to have been close to his… Read more Audio

8:00 PM.Tchaikovsky called Glinka's Fantasy on two Russian Folksongs 'the acorn from which the oak of Russian music grew'.

Orchestra Wellington/Marc Taddei Read more Audio

8:00 PM.Rachmaninov: Piano Concerto No 3 in D minor. Michael Houstoun (piano), Orchestra Wellington/Marc Taddei. Recorded 18 April 2015 at the Michael Fowler Centre, Wellington by RNZ Concert. Audio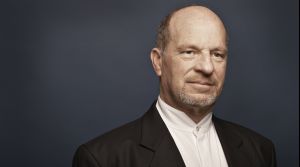 Radio New Zealand Concert presenter Nigel Collins joins Orchestra Wellington onstage for the first time to launch the first concert of their 2015 season: Kamarinskaya.
Nigel Collins hosted the first in a series of six concerts by Orchestra Wellington under the baton of Marc Taddei, also featuring the artistry of New Zealand's renowned pianist Michael Houstoun. In 2015, Orchestra Wellington will perform all six of Tchaikovsky's seminal symphonies paired with Michael Houston performing five great Russian and Soviet piano concertos, as well as a brand new work from NZ composer Karlo Margetic. Tchaikovsky was the first non-German/Austrian composer to become a great symphonist and opened the door for composers like Sibelius, Shostakovich, and Prokofiev to create great symphonic cycles of their own.
In this first concert of the season, Orchestra Wellington and Marc Taddei began with Mikhail Glinka's Kamarinskaya; an orchestral exploration of Russian folksong that Tchaikovsky described as "the acorn from which the oak of Russian music grew". Then Michael Houstoun gives an introspective interpretation of Rachmaninov's powerful Piano Concerto No. 3. And finally, the seed from which all Russian symphonies grew, Tchaikovsky's First Symphony, Winter Daydreams.
Michael Houstoun (pno), Orchestra Wellington/Marc Taddei
GLINKA: Kamarinskaya; RACHMANINOV: Piano Concerto No 3 in D minor Op 30; TCHAIKOVSKY: Symphony No 1 in G minor Op 13, Winter Daydreams
Produced and recorded by Radio New Zealand