Our Changing World for Thursday 1 March 2012
New Giant Fossil Penguins from 28 Million Years Ago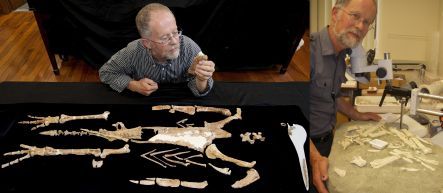 Ewan Fordyve, left0 with a reconstructed Kairuku skeleton, and right, with a penguin skeleton being carefully removed from the rock matrix around it (images: R. Ewan Fordyce, left, and A. Ballance, right)
New research published this week in the Journal of Vertebrate Palaeontology has added two new species to the roll call of giant fossil penguins that once called prehistoric Zealandia home. The slender, elegant birds have been given the genus name of Kairuku, meaning 'diver who returns with food', and they are thought to have stood about 1.3 metres high, and weighed up to 60 kilograms.
Alison Ballance heads to the Geology Museum at the University of Otago to meet palaeontologist Ewan Fordyce, and the penguin skeletons that have been reconstructed from fossils first collected by Ewan about 35 years ago.
Radio Astronomy and KAREN

AUT University's Institute for Radio Astronomy and Space Research operates a 30-metre radio telescope dish and a smaller 12-metre companion, from a radio-quiet valley north of Auckland (image: Sergei Gulyaev)
In a valley north of Auckland sits New Zealand's newest and biggest radio telescope. A former communications dish for Telecom, this 30-metre facility, the second largest in the Southern Hemisphere, now belongs to AUT University's Institute for Radio Astronomy and Space Research. For a year now, work has been underway to convert it to its new role. As we get closer to the announcement of the location of the Square Kilometre Array, which New Zealand hopes to co-host with Australia, the potential of this dish, plus its 12-metre companion across the valley and a powerful new communications system called KAREN, gives great hope for our chances to Sergei Gulyaev, who heads up the institute.
Texting Royal Albatrosses
Some northern royal albatrosses from the colony at Taiaroa Head at the tip of Otago Peninsula have recently been fitted with prototype GPS tracking devices that 'text home' to say where the birds have been. The tracking devices use mobile phone networks to send GPS locations to a base station, and have been developed by Keith Payne and Tom Molteno in the Physics Department at the University of Otago (click here to listen to an earlier interview about this project). They are being tested in the field by Zoology Department PhD student Junichi Sugishita, who is fitting different versions of the devices to juvenile and breeding albatrosses. Junichi is investigating where young albatrosses feed, with a view to understanding their interaction with fishing vessels, and finding out where breeding albatrosses feed and how much food they supply to their chick.
A few days after the tracking devices were fitted in February 2012, Alison Ballance spoke with Junichi Sugishita to find out the very first results from the juvenile tracking study.
Urban Ecology in Dunedin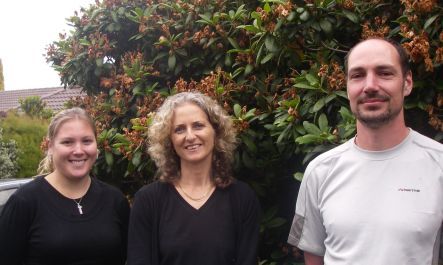 The urban ecology team - from left, Amy Adams, Yolanda van Heezik and Ed Waite (image: A. Ballance)
There is an increasing realisation world-wide of the value of nature in cities, both for the people who live there, and for the plants and animals themselves. Yolanda van Heezik from the Zoology Department at the University of Otago began looking at green areas and wildlife in Dunedin about 5 years ago, and, helped by her graduate students, is beginning to piece together a complex story about nature in the city.
Alison Ballance joins Yolanda, and PhD students Amy Adams and Ed Waite on a leafy inner city street next to Dunedin's town belt to find out what they've been doing and why. They discuss Yolanda's collaborative garden study, work on urban cats, birds (PDF) and skinks, Amy's PhD research on how possums use cities, and Ed's PhD research on the role of large specimen trees and how they are used by birds.