Music 101 for Saturday 9 April 2011
2-3pm
Gary Numan
The N.M.E. once wrote 'Gary Numan's influence on electronic music is unparalleled'. Numan has had a spectacular career of highs, lows, hit singles and global touring. He is also one of the most accomplished aerobatic display flyers in the UK. For Access All Areas Trevor Reekie talks to Gary Numan about cars, planes, Asperger's Syndrome and self-esteem ahead of his Auckland show in May. Listen to the interview with Gary Numan here
Tin Syndrome and 35 years of Jayrem Records
Re-discover inventive and theatrical Muldoon-era Wellington band Tin Syndrome, whose albums have just been re-released on iconic NZ Label Jayrem, and are reviewed here by Nick Bollinger.
We'll also hear more about Jayrem Records and their 35 year anniversary back-catalogue re-issues.
3-4 pm
Mumford and Sons
Now that the fickle British music press have turned on them, stadium-folksters Mumford and Sons are focusing their attentions toward the colonies, with an expanded edition of their debut album that includes a live set from Byron Bay festival Splendour In The Grass. Nick Atkinson talks banjos and tweed with the band.
Check out a surprising cover of Mumford and Son's 'White Blank Page' here
City Oh Sigh
We meet Wellington three piece City Oh Sigh, writing wistful pop tunes on chamber instruments.
Chris Hurn
Accomplished 22 year old singer songwriter Chris Hurn has just released his debut album, whose ear-wormy songs echo his hero Bob Dylan. He's also building a career writing music for U.S.A. film-makers from his home in Lower Hutt. Listen to the interview with Chris Hurn here
4-5 pm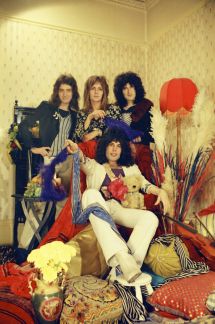 Queen: 40 Years of Rock Royalty
The enduring line-up of influential rock group Queen came together in London in 1971. Freddy Mercury (vocalist, piano), Brian May (guitar), Roger Taylor (drums) and John Deacon (bass) went on to have a hugely successful international career. In this feature, May and Taylor speak openly about the band's early days; the love/hate relationship with the music press; what Freddy was really like; and carrying on after his death in 1991. To listen again to Queen - Forty Years of Rock Royalty, and see photos, click here
Ikonika
Sara Abdel-Hamid started out drumming in dirty garage rock bands but her beats-based interests have now wormed through hip-hop into the darkness of dubstep and further still. Now - as Ikonika - she is part of the post-dubstep movement. No one is quite sure what post-dubstep is, but it seems to have fewer bass drops and more synths than its precursor. Ikonika is bringing her video game-influenced beats to Wellington and Auckland this month. Listen to the interview with Ikonika here