Music 101 for Saturday 16 April 2011
2-3pm
Record Store Day
We celebrate (and lament) on Independent Record Store Day, speak with some of the last bastions of brick-and-mortar music retail, including some who are having to shut up shop, and we'll look into some new approaches to music retail - for those consumers who still like to look at and fondle their music pre-purchase. Hear Real Groovy Wellington Manager Mark Thomas on closing his store here. and Southbound Distribution and Conch Records here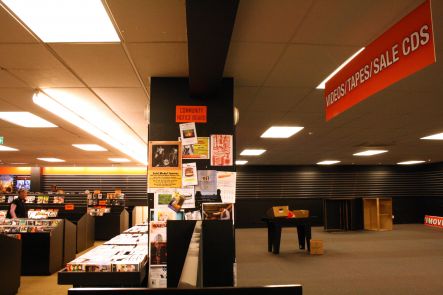 Real Groovy Wellington, half empty.
Michelle Shocked session
Michelle Shocked's career began 25 years ago when she was unknowingly recorded on a walkman while playing around a campfire in Texas. The fiercely independent songwriter was in NZ this week re-visiting those songs and joined us in the studio for a session. Listen to Michelle Shocked in session here.
3-4pm
Pacific Music Awards - we check out some of the finalists announced last night.
PNC
Palmerston North MC PNC talks about throwing some hipster in with his hip-hop for his third LP Man On A Wire Listen to the interview with PNC here
Scratch 22
We speak to Scratch 22, a beat-maker whose excursions in hip-hop sampling have led him to an appreciation for unlikely styles. Hear Scratch 22 on his album Distance From View here.
Gig Guide
4-5pm
The Secret Life of Left-Handed Musicians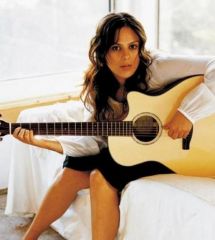 "Basically if you're left-handed you're evil. You've got to watch out for anyone who's left-handed." Says Phoenix Foundation multi-instrumentalist Will "Wild Bill" Ricketts. While tongue-in-cheek, it's a theory that has its roots buried deep in ancient history when left-handers were thought to contain the spirit of Lucifer. But it's not all dark clouds and thunder-claps. American studies suggest that left-handers may earn up to 15% more than right-handers and they have a tendency to be high achievers.However if they're going to play music they'll first have to grapple with instruments designed for right-handed use. Anika Moa still plays a standard-strung right-handed guitar, but upside down! Shayne Carter of the Straitjacket Fits and Dimmer was forced to write with his right hand at school. Bass player Nick Bollinger also learnt to play a right-handed instrument inverted because there simply wasn't time to continually re-string the instrument as it was passed from brother to brother. Nick Atkinson talks to diverse range of sinistra (left-handed) local musicians hoping to unearth the behavioural traits these creative souls share.
Listen to music-making lefties here
Little Bushman
Nick Bollinger listens to the third album by Aotearoan psychedelic blues quartet Little Bushman for the sampler. Hear Little Bushman's Te Oranga, and more from The Sampler with Nick Bollinger here.