Music 101 for Saturday 23 April 2011
2-3pm
David Kilgour
The Clean's David Kilgour talks about why his new solo album Left By Soft, recorded with his band The Heavy Eights in the cloud forests of the Catlins, may be his last. Listen to the interview with David Kilgour here
Washington
Megan Washington spent her childhood watching musicals and rollerblading around Port Hornsby, Papua New Guinea, before moving to Brisbane as a teenager, going to jazz school, and finding her own take on pop. She and bandmate Ben Edgar stop by to play songs in our studio.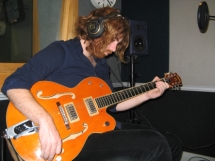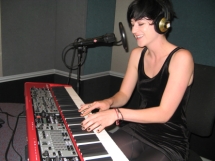 Benjamin Edgar and Megan Washington
The Aggrolites
LA band The Aggrolites talk about the distinctly North American ingredients in their dirty reggae, ahead of their Auckland show this week. Listen to the interview with The Aggrolites here
3-4pm
We'll hear from the winner of the 2011 Taite Music prize - Ladi 6.
Jerome Kavanagh
Jerome Kavanagh is a player and performer who has taken his kite of Taonga Puoro all around Europe and South America, showing off aspects of Maori culture to anyone who's interested. He's won a Grammy; played Maori instruments which were collected by Captain Cook, now housed in British museums and has his own London-based band, which fuses the sounds of the big city with those of the South Pacific.
Jamie Woon
Meet British musician Jamie Woon, who talks about his anxious and revealing take on bass-heavy R+B. Listen to the interview with Jamie Woon here
Gig Guide
4-5pm
The Secret Life of Lyricists
What makes a great song lyric? Is it the same process as writing a poem? Does it need to rhyme? Does it need to mean anything at all? Julie Hill asks musicians and music lovers about some of their favourite wordsmiths in song, and along the way discovers the mysterious concept of glossolalia; the best misheard lyrics of all time and the man partly responsible for John Mayer's Grammy winner Your Body Is A Wonderland. For more information and audio for The Secret Life Of Lyricists click here
And Nick Bollinger sits down with headphones on to listen to the new album by Elbow, Build a Rocket Boys!.
Here's the link to that Family Cactus session at Erskine College in Wellington.