Arts on Sunday for Sunday 15 June 2008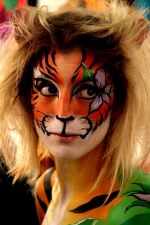 12:40 Yolanda Bertram (Body Art)
Yolanda Bertram will represent New Zealand at an international body art competition later in the year, but this weekend she's vying for another New Zealand award at The National Body Art Awards in Auckland.
Pictured right: A body art creation by Yolanda Bertram.
12.50 Yvette Nolan (Theatre)
Yvette Nolan heads a Canadian Theatre company that's bringing a play about an FBI raid on an American Indian reservation in the 1970s, to New Zealand, for the Honouring Theatre Festival in Rotorua.
An image from 'Annie Mae's Movement', a part of the Honouring Theatre Festival in Rotorua.
1:00 At the Movies with Simon Morris
Simon Morris is one of the lone men at the movie version of Sex and the City. He also looks at George Clooney's tribute to classic comedies - Leatherheads, and talks to British director Sarah Gavron about her new film Brick Lane.
1:30 John Chapman (Photography)
Photo journalist John Chapman discusses filming key events in the Middle East and Eastern Europe in the 1980s, ahead of the opening of an exhibition in Auckland of his newspaper shots from that time.
1:40 Ballet Costumes (Dance)
Lucy Orbell tries on some of the dazzling costumes from past Royal New Zealand Ballet productions, which are about to go up for auction.
Pictured right: One of the costumes to be auctioned.

1:50 The Organ (Music)
Organists Michael Stewart and Douglas Mews (pictured left), muse on their instrument of choice and an upcoming concert series celebrating French compositions for the organ

2:00 The Laugh Track: (Comedy)
Actor and playwright Peter Hawes (right) talks about his new play at Palmerson North's Centrepoint Theare, The Gods of Warm Beer, and about his comedy picks.
Pictured below: Cast from 'The Gods of Warm Beer', Laura Hill as Maureen and Richard Knowles as Rory.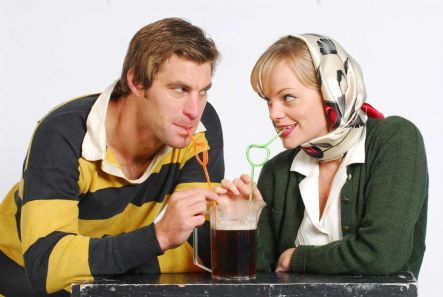 2:20 Iranian Contemporary Photography (Visual Arts)
Leila Pazooki (pictured right) is a Muslim woman working as a boundary pushing contemporary artist in Tehran. She's one of 17 artists involved in an exhibition of Iranian Contemporary Photography that will tour New Zealand over the next two years, starting at the Auckland Festival of Photography.
2:30 Writer's Block (Literature)
Poet Koenrad Kuiper discusses his new poetry collection Bounty….while writer Patricia Grace and her husband Waiariki talk about collaborating on her children's book Maraea and the Albatrosses, published both in English and Te Reo.

Pictured above - left to right: 'Maraea and the Albatrosses' cover art, Patricia Grace (photo by Jane Ussher), 'Bounty' cover art, Koenrad Kuiper.
2:50 Colin Moy (Theatre)
Stage and Screen actor Colin Moy (left) is starring in a new Auckland production of Harold Pinter's autobiographical love triangle play, Betrayal.
3:04 Radio Drama : The Moehau by Gary Henderson.
Is there something ancient, dark and dangerous in the high country of the Moehau ranges? Or is the darkness in the dangerous mind of the murderer feigning insanity?