Arts on Sunday for Sunday 22 June 2008

12:40 Biennale of Sydney 2008 (Visual Arts)
Josie McNaught (pictured right) reports on the first week of the Biennale of Sydney 2008 - what's hot, what's weird and does New Zealand art get a look in?
12.50 Downstage Theatre (Theatre)
Downstage Theatre in Wellington (pictured below) has just hosted a forum to find out what the theatre community thinks of its planned new direction - joint professional productions. The theatre has just six months to prove itself to Creative New Zealand, which has only offered funding until the end of the year. We report on the forum.
1:00 At the Movies with Simon Morris (Film)
Simon Morris is on blockbuster duty - the all-new Incredible Hulk, and horror spectacular The Happening. He also goes upmarket to see the award-winning drama In The Valley of Elah, starring Tommy Lee Jones and Charlize Theron.
1:30 Hansel and Gretel (Music)
Two of New Zealand's highest profile female opera singers, Anna Pierard and Ana James play Hansel and Gretel in the latest NBR New Zealand Opera production that's about to tour the country. Both women have returned home from overseas, where they're both well regarded, to play the roles which they say are far from child's play.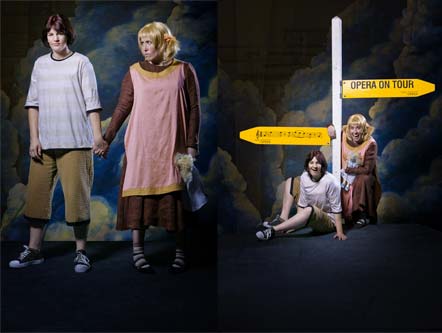 1:40 Young and Hungry (Theatre)
Lucy Orbell looks at how theatres in Wellington are trying to draw in younger audiences - using Bats Theatre's Young and Hungry annual season as a good example of how it can be done.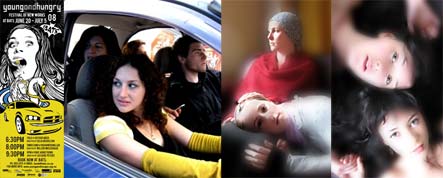 1:50 Lace (Visual Arts)
Sandy Heffernan loves lace but while she's studied traditional lace making methods, she's using it in all kinds of new ways in her contemporary artworks.
Below: Sandy Heffernan and images of her work Heffernan Hoopla.

2:00 The Laugh Track (Comedy)
Australian comedy musical trio Scod, Yon and Gatesy are Tripod (pictured left)- one of the most popular and prolific comedy acts working in Australia today. Tripod play their own material and tip their hats to other comedian who's made them laugh over the years.
2:20 Dialects (Theatre/Language)
David Nevell (pictured right) is an authority on English dialects. His ear is so acute that he teaches dialogue to theatre groups around the world, including here in New Zealand.
2:30 Writer's Block: (Literature)
Peter Bland releases his seventh poetry collection, Mr Maui's Monologues, while Sam Sampson calls his new collection of poems Everything Talks.

Pictured left to right: Mr Maui's Monologues, Peter Bland, Everything Talks, Sam Sampson.
3:00 Radio Drama: Concerto for Humans and Semtex
The brilliantly produced final play in this year's WorldPlay Season. From the ABC in Australia.