Afternoons with Jesse Mulligan for Monday 11 May 2015
1:10 Your Song
Little Darling by The Paper Cranes chosen by Nat Watts
1:20 New Zealand Retro: Beauty pageants
Guests:
Caroline Daley
Candace Savage
Anjelique Jones
Gallery: Beauty pageants in New Zealand


Left: 1947: Mary Wootton (Miss New Zealand) holding a BOAC (British Overseas Airways Corporation) poster, at Whites Aviation offices, Auckland. Whites Aviation Ltd :Photographs. Ref: WA-10826-G. Alexander Turnbull Library, Wellington, New Zealand. Right: Miss Pinup New Zealand 2015 Anjelique Jones : Photographer: David Michael Photography.

Archival audio supplied by Ngā Taonga Sound & Vision.
2:10 The Quizmaster and the Prince - Vicki Coats
Stewart Island quiz mistress, Vicki Coats, did everything she wasn't supposed to do in the presence of a Royal. But Prince Harry didn't seem to mind. He spent the evening at the South Sea Hotel for the Sunday quiz and Vicki got up close to the Royal.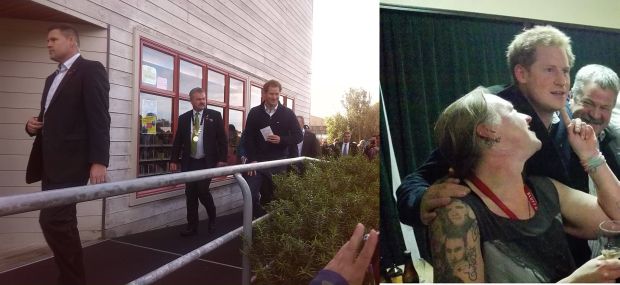 2:20  A life after sport - Jacob Oram
Sports stars who retire are often faced with a difficult transition - when your career ends in your 30s, and you're a well-known face and name it can be hard to figure out what to do next. Some take up commentary positions, coaching and mentoring roles - but former Black Cap, Jacob Oram is taking a different path. He's graduating today from Massey University with a Bachelor of Business Studies - an achievement that was a long time coming.
2:30 NZ Reading - The Conductor
Shostakovich has been turned down for the army and shares his disappointment over a drink with Sollertinsky, Artistic Director of the Leningrad Philharmonic
2:45 Feature album
Begin To Hope.  Regina Spektor   
3:10 Dead Wake
The sinking of the superliner, Lusitania in May 1915 is considered the "other Titanic" in the history of maritime tragedies. 
A German submarine fired a torpedo into the mighty ship off the coast of Ireland killing close to 1200 people and pushing an outraged United States closer to joining the First World War. 
Author Erik Larson tells the story of the sinking, and the cover up of the legendary disaster in his book, Dead Wake: The Last Crossing of the Lusitania.
See also, the National Library' blog about the Lusitania.
3:30 Voices - Lynda Chanwai-Earle 
Lynda Chanwai-Earle brings us two talented Asian writers who have been nicknamed "Millennium poets" for their bilingual dexterity.  She attends their public performance in Wellington to learn more
3:45 The Panel Pre-Show
What the world is talking about.  With Jim Mora, Noelle McCarthy, Jane Clifton and Neil Miller
MUSIC DETAILS
MONDAY MAY 11
YOUR SONG:  
ARTIST:  Paper Cranes  
TITLE:   Little Darling
COMP:  Brown,Brown
ALBUM: The Road Home
LABEL:    PRIVATE    3049
FEATURE ALBUM:  
ARTIST: Regina Spektor
TITLE:  Fidelity
COMP:  Spektor
ALBUM: Begin To Hope
LABEL:  SIRE
ARTIST: Regina Spektor
TITLE:  Better
COMP:  Spektor
ALBUM: Begin To Hope
LABEL:  SIRE
ARTIST: Regina Spektor
TITLE:  On The Radio
COMP:  Spektor
ALBUM: Begin To Hope
LABEL:  SIRE
ARTIST: Regina Spektor
TITLE:  Hotel Song
COMP:  Spektor
ALBUM: Begin To Hope
LABEL:  SIRE
THE PANEL:
ARTIST:  Vance Joy
TITLE:  Riptide
COMP:  Vance Joy
ALBUM: God Loves You When You're Dancing
LABEL:  LIBERATION    401850