Afternoons with Jesse Mulligan for Monday 9 March 2015
1:10 Your Song
I Want You Back (Jackson 5 cover) by Lake Street Dive.  Chosen by Diane Bellamy of New Plymouth

1:20 New Zealand Retro: Motor Racing
We take you to the golden age of New Zealand motor sport… to those days in the 60s and 70s when the names McLaren, Hulme and Amon grabbed headlines around the world.  Chris Amon and Scott McLaughlin speak about driving fast. And Max Rutherford joins us to talk about his work and new book ' Paddock to Podium - The Mechanics View'.
Archival audio supplied by Ngā Taonga Sound & Vision.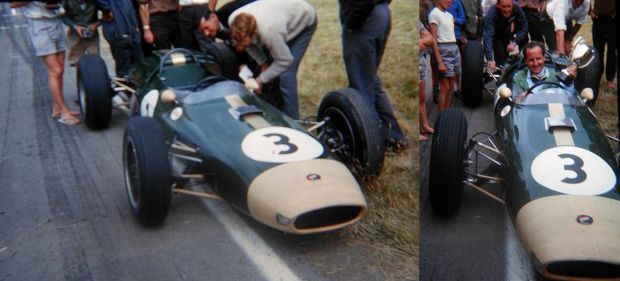 Photos sent in by listener - motor racing in Levin 1963, "Denis Holme had just won the premier race of the meet and had pulled off the track just by where we were standing. So we walked across the track, congratulated him and had a good squiz at his car at the same time. How times have changed!" says David in Wanganui
2:10  Country Cop 24/7: The Life and Times of a Rural Cop - Gavin Benney
He is a former police officer who worked in a small community, got to know that community well, and by most accounts did a great job. But in serving 24 years in Hikurangi, north of Whangarei, Gavin Benney broke a few rules. In the end, he gave policing away. Gavin Benney details all this in a book called "Country Cop 24/7: The Life and Times of a Rural Cop"
2:30 Festival Review
Justin Gregory reports on the Auckland Arts Festival  
2:45 Feature album
Hall and Oates "Voices" - 1980
3:10 Feature interview - Tom Rob Smith
Vogue magazine calls Tom Rob Smith an icon of genius and style. Before the age of 30, his first novel became the first ever thriller to be longlisted for the Man Booker Prize. 'Child 44' is about a serial killer in Stalin's Soviet Union, and a film based on the book starring Gary Oldham comes out this year. Smith has just finished writing a thriller series for the BBC called London Spy. His latest novel is no less dramatic than his previous work, but this time it's based on his own family and the phone call from his father that changed his life
3:30 Voices - Lynda Chanwai-Earle
"Ancient and new" Chinese stand-up comedy is featured at a Gala Festival in Lower Hutt, Wellington with a popular visiting comedian from Hunan, China. Lynda Chanwai-Earle attends the festival to learn more about a form of comedy that dates back to the Ming Dynasty - with a modern twist 
3:45 The Panel Pre-Show
With Jim Mora, Noelle McCarthy, Rob Salmond and Neil Miller
MUSIC DETAILS
Monday 9 March
YOUR SONG:
ARTIST: Lake Street Dive
TITLE:  I Want You Back
COMP: Berry Gordy, Jr. / Alphonso Mizell / Freddie Perren / D. Richards
ALBUM:  Fun Machine
LABEL: SIGNATURESOUNDS 
RETRO
ARTIST: Yello 
TITLE:  The Race
COMP: Boris Blank / Dieter Meier
ALBUM:  Flag
LABEL: UNIVERSAL
ARTIST: George Harrison
TITLE:  Faster 
COMP: James Dean Bradfield / George Harrison / Richey James / Sean Moore / Nicky Wire
ALBUM:  The Holy Bible
LABEL: EPIC
ARTIST: Foo Fighters
TITLE:  The Best Of You 
COMP: Foo Fighters
ALBUM:  Greatest Hits
LABEL: RCA
FEATURE ALBUM:
ARTIST: Hall and Oates
TITLE:  You Make My Dreams
COMP:  Sara Allen, Hall, Oates
ALBUM: Voices
LABEL: RCA 370152 
ARTIST: Hall and Oates
TITLE:  Your Kiss Is On My List
COMP:  Janna Allen, Hall
ALBUM: Voices
LABEL: RCA 370152 
ARTIST: Hall and Oates
TITLE:  Every Time You Go Away
COMP:  Hall
ALBUM: Voices
LABEL: RCA 370152  
PANEL HALF TIME:
ARTIST: Mariah Carey
TITLE:   Vanishing
COMP:  Carey, Margulies
ALBUM:  Music Box
LABEL:  Columbia