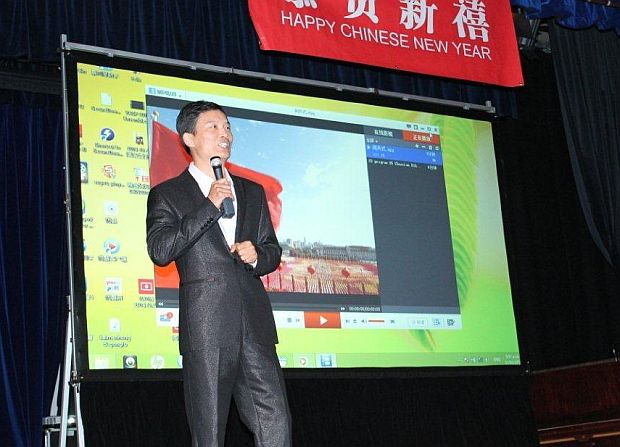 Ummph...ummph...ummph...pbbluuck...pbbluuck...pbbluuck ...!

Surprisingly convincing sound effects of marching soldiers and helicopter rotors by stand-up comedian Mr Zhou Weixing from Hunan, China.
With nothing but extremely versatile vocal chords, a specially built microphone and a screen with images flickering behind him, stand-up comedian Mr Zhou Weixing perfectly mimiced and narrated an iconic Hollywood action flick starring Arnold  Schwarzenegger. It was very funny to watch and in spite of being possibly the only audience member unable to speak Mandarin, his humour was universal.
The Little Theatre in Lower Hutt was packed full with families when I arrived that weekend. It was a festive occasion; children playing happily amongst the crowd, parents close behind. Many families came from as far as Palmerston North to catch some of the best Chinese performers from around the country.
Chinese New Year is the most auspicious time of the year for our Chinese communities, so the line-up of performers was impressive including New Zealand's famous Guzeng master Xiyao Chen and two Chinese male ballet dancers; Pengfei Jiang from the Royal New Zealand Ballet and Jianjing Wan from Te Whaea National School of Dance.
Festival co-ordinator Stephen Wang tells that the line-up reflected the needs of a growing new migrant Chinese community in Wellington's region. The entire Gala Festival programme was in Mandarin, however the programme notes were translated into English. It's part of the desire of the community to make these Gala Performances appeal to a wider public.
Stephen also tells me that Mr Zhou was a very lucky score for the Gala Performance as he's a popular performer from television, screen and theatre back in China. Ultimately language is not a barrier when it comes to music, dance and comedy. Laughter has the ability to breakdown barriers in any culture.
On stage Mr Zhou performed a routine in front of a video screen that included mimicking the sounds of thousands of marching soldiers, tanks, helicopters and a numerous variety of aircraft before he did his 'drop-dead funny' parody of Arnie's blockbuster action movie.
Backstage after Mr Zhou's performance, Natalie Harrington, a Wellingtonian who spent her childhood in China, assisted me with translations.

Natalie Harrington - translator, Comedian - Mr Zhou Weixing and his daughter
Apparently Mr Zhou can also perform ventriloquism (although "ventriloquism" got somewhat lost in translation). After whistling like a bird and mimicing a few other extraordinary vocal effects Mr Zhou explained that this imitation comedy was just one of his many genres and that ventriloquism was actually a bit boring for him. His repertoire includes singing, acting, hosting and 'Xiangsheng' - the talk-how host format that is very popular back in China.
Xiangsheng is a two person comedy routine also known as crosstalk, which literally means 'face and voice'.
Performed in the traditional sense Xiangsheng comes in the form of dialogue between two performers, with a wealth of puns, it's delivered in a rapid, comedic banter with the express purpose of getting audiences to laugh.
Derived from street performance and going back as far as the Ming Dynasty, Crosstalk or Xiangsheng continues to be one of China's most popular performing acts. The Xiangsheng acts would sometimes include singing and musical instruments.
Mr Zhou tells me that the largest audience he has performed to is around 50,000 in China. He began his career 38 years ago as an MC, actor and comedy talk show host in the Xiangsheng comedy format. He hails from the Hunan province, the birthplace of Chairman Mao Tse Tung and also home to China's very new and popular Hunan Satellite Television Station (HSTV) or Hunan Weishi.
Hunan Weishi (HSTV) is currently China's second most watched chanel, second only to CCTV -1, owned by China Central TV but it is the country's 'number one' television station in Mr Zhou's opinion.
Then he's back on stage and at the end of unfortunate Arnie's parody and with perfect comedic timing, Mr Zhou leaves the Mandarin speaking audience laughing, cheering and wanting more.