Afternoons with Jesse Mulligan for Monday 11 April 2011
1:10 Best Song Ever Written
Downtown by Petula Clark as chosen by Brent Costley of Palmerston North
1:15 8 Months To Mars - what would well-known people do on an trip to Mars?
New Zealand basketball player, John Dybvig.
2:10 Feature Stories
Archaeologists have made some surprising discoveries in the first-ever joint Australian, Turkish and New Zealand survey of the Anzac battlefield. The findings include 12 cemeteries, concrete boundary markers and evidence of tunnels created during the Gallipoli campaign. Not only do the findings tell us about tactics used during the campaign, they also give us a glimpse of what like was like for our troops on that infamous battlefield.
See images of the site and some of the archaeological finds.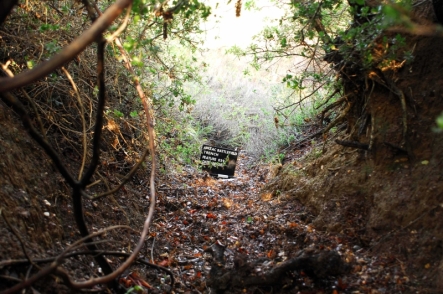 Typical trench in the Johnston's Jolly area. Photo: Australian Government - Department of Veteran's Affairs.
Colleen Sloane goes to the gym six days a week and has the kind of physique Arnold Schwarzenegger is famous for. Not bad for a 71-year-old great grandmother. Colleen started body building at the age of 59 and she's been hooked ever since. This weekend the body building community honored Colleen Sloane for competing in her 100th National Amateur Body Building Association event.

2:30 Reading
Part one of The Quince Cafe by Sue Francis.
2:50 Feature Album
Toto IV by American band Toto from 1982.
3:12 Feature interview - Leon Russell
Leon Russell has played with, written for, and produced the biggest names in pop and rock. Up until his first solo album in 1970, Leon Russell had musically mixed with people like the Mamas and Papas, the Byrds, Beach Boys and Sonny and Cher, Frank Sinatra and the Rolling Stones.
Last October, Leon was high-flying again with the collaboration album The Union with Elton John. He earned a Grammy nomination and just last month, was inducted into the the Rock & Roll Hall of Fame.
Leon Russell is in New Zealand for one Auckland concert on 21 April.
3:33 Our Changing World
3D movies and TVs are all the rage at the moment, but a lot of the technology developed for the movie industry is simply too expensive and inaccessible for most other applications.
At IRL in Auckland, Robert Valkenburg (pron. Volkenburg) has developed a prototype scanner which uses a laser to image 3D scenes and objects in real time. For a demonstration, Ruth Beran visits him at Parnell and is a little surprised by what she sees on the walls.
4:06 The Panel
Garry Moore and Chris Wikaira.