Subterranea
Radio New Zealand tales from beneath the surface of the earth.
Professor David Pike studies underworld civilisations from Medieval times through to the present day, in fact and in fiction. He's a fan of New Zealand photographer Wayne Barrar's series of subterranean photographs.
We go underground with Nick Catford of Subterranea Britannica and Mike Lee of the Wrights Hill Fortress Restoration Society. Audio
The Lowline is an ambitious plan to turn a disused trolley terminal in Manhattan into the world's first underground solar-powered park. With Robyn Shapiro of The Lowline. Audio
Anna Fifield visits the secret network of underground tunnels in Gaza, bringing everything from nappies to cars in. Audio
Going underground, basement extensions and the rise of the Iceberg Home. Audio
Times were tough for the New Zealand Communist Party at the start of the Second World War. They opposed the fight against Adolf Hitler and as a result, their newspaper, People's Voice, was suppressed… Audio
Jenny Macintyre takes us underground into a cave world that's thriving on global warming and rain. Audio
Kieran McKay is an outdoor pursuits instructor and one of New Zealand's most accomplished cavers. He's been caving for 30 years, since he was 14, and is now working with a small team to link up two… Audio

A cave entrance in the Waitomo area. CC BY James Shook.
Simon Mercep digs deep with three experts on caves and caving.
GNS Science geologist Hamish Campbell explains why New Zealand has so many caves and how they are formed.
A chief guide for the Waitomo glow-worm caves Huia Davis talks about the value of caves (and glow-worms) for tourism in New Zealand.
Veteran cave explorer Kieran McKay's team discovered New Zealand's deepest cave system in the Kahurangi National Park in 2014.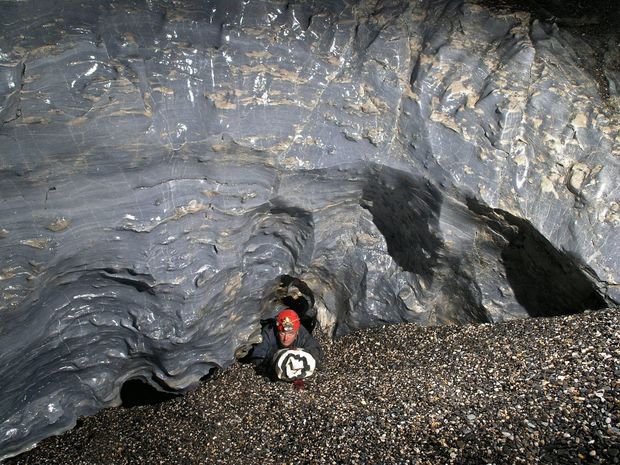 Lower levels of Nettlebed Cave, New Zealand CC BY-SA 3.0 Dave Bunnell.
Music Details
Extreme Ways by Moby
Night Call by London Grammar
Gregor Yeates enthuses about the importance of soil nematodes and earthworms while talking about his research career Audio
Many farms in New Zealand are missing deep burrowing earthworms, that can help better grass growth, so Nicole Schon is relocating worms to farms in need Audio
Collection items
Steven Dring's set up a subterranean farm using a disused air raid shelter in London. Audio