Sunday, 19 June 2011

6:00 PM.Miria George and Hone Kouka of Tawata Productions talk about some of the more challenging aspects of creating Maori theatre and the upcoming Matariki Development Festival helping to grow Maori… Read more Audio
"Kaha pai mai i nga toko o te ata ka whakatika matou."
As the ray of the morning appears, we started.
This week's whakatauki is explained by Nick Roskruge (nō Taranaki whānui).
Juggling cultural and creative integrity while creating a sustainable, rigorous Māori theatre community are just some of the ways Māori production house Tawata approaches its work, as directors Miria George and Hone Kouka explain to Maraea Rakuraku.
What's the difference between different varieties of taewa (Māori potatoes) – urenika, peruperu and tutae kuri? Justine Murray finds out when she joins the harvesting of the annual crop in Palmerston North, where she meets a handful of Massey University students and whānau helping out.
See some pics of the afternoon harvest.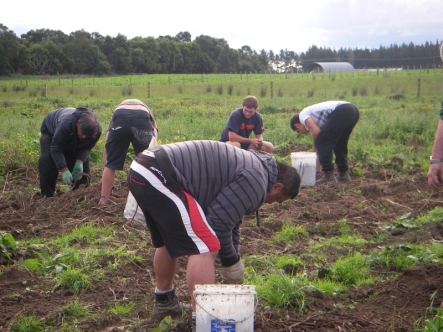 Whanau and students help out with the afternoon harvest.
Barry Harris is wearing his Māori warden uniform proudly when Maraea Rakuraku meets him patrolling an event in Whanganui.
The Nga Taonga Kōrero archival segment features audio from what was the newly established Māori journalism course at Waiariki Polytechnic, Rotorua in 1987. Students Gabrielle Huria, Denise Beckett, Tim Ryall and tutor Chris Winitana describe the objectives of the course and its timeliness in addressing gaps in mainstream reporting of Māori issues. Next week, Te Ahi Kaa investigates whether anything has changed. 
Waiata featured
Te Arohanui performed by Whirimako Black from the ālbum, Houhou te rongo (2002)