Walking Alongside
Specialist palliative care nurse Joan Doyle sees her work as walking alongside her terminally ill patients, helping them to live their lives to the full. They live at home and can call on Lower Hutt's… Read more Audio
Specialist palliative care nurse Joan Doyle sees her work as walking alongside her terminally ill patients, helping them to live their lives to the full. They live at home and can call on Lower Hutt's Te Omanga Hospice teams' services 24 hours a day, 7 days a week.
Joan Doyle dicussing symptoms with a patient
Palliative care does not attempt to cure, it's concerned with the management of symptoms and is holistic in its care of patients. Usually the first step in allowing patients to live a fulfilling life is to control and diminish pain. One terminally ill woman was bed-ridden until her severe pain was managed; now, 4 months later, she regularly pops into the office to see how her business is running.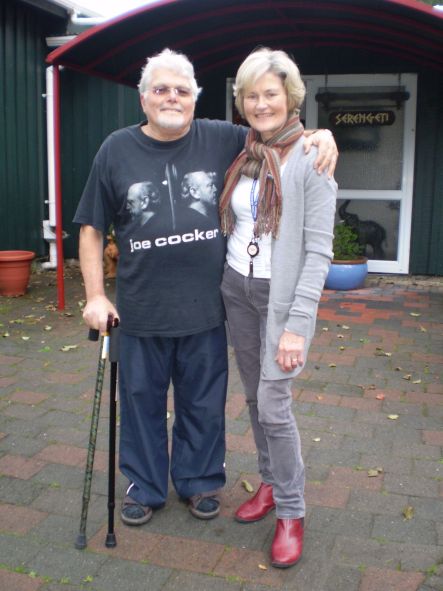 Patient Gordon Mason and Joan Doyle
Te Omanga Hospice began in 1979 and was the first in the country to set up a comprehensive in-home service. The charity could not exist without the 38,000 hours each year contributed by 500 volunteers. It costs just over $6 million annually to run and about $2 million of this is funded by generous communities in and around Hutt valley. The rest is supplied by District Health Boards. Spectrum's Jack Perkins accompanies Joan Doyle on her rounds.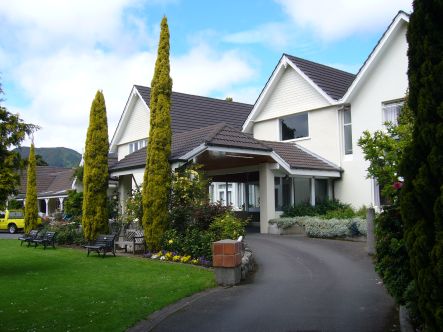 Te Omanga hospice (Courtesy Te Omanga)