City Safari
Orienteering exchanges the backblocks for the Capitals public transport system. Audio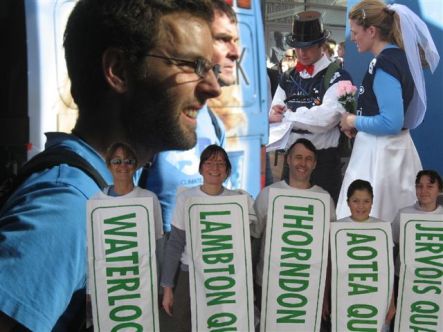 Photos Suzanne Foster
A highly mobile fancy dress parade gets around using Wellington public transport. Lavishly decked out orienteering teams leap on and off buses to reach checkpoints and earn points. Children, parents and grandparents compete as 'The Generation Gap', 'Have Babies Will Travel' includes an eight-month-old. Competitors in sandwich boards represent the Quays of the City - Waterloo, Lambton, Thorndon, Aotea and Jervois.
Regional Transport Authority Metlink have brought orienteering in from the bush and put competitors on buses rather than in 4WDs. Rogaining, as it's known, is a fun event, but raising the profile of Wellington's public transport system is also a primary focus.
Avoiding the temptation to disguise himself as a microphone, Spectrum producer Jack Perkins is on the buses for the Capital's 6th City Safari.