Sacha the Dog Catcher
Out and about with Auckland animal control officer Sacha Keltie. Audio
There are more than fifty-thousand registered dogs in the Auckland region, and an estimated ten-thousand more unregistered.
Sacha Keltie is an animal control officer in Auckland City. She's one of a dozen out and about 24/7. Sacha works for a private company ACSL which contracts services to Auckland City and to Papakura and Franklin Districts.
Mostly Sacha deals with dogs, but she's also had to cope with goats and more recently several cows, which wandered from a small city farm and munched on neighbours' flower gardens.
The young, slightly built woman says she loves being away from an office desk and enjoys practising her people and dog control skills.
Sacha's only weapons are her voice and her extendable baton, called a "bite stick". When confronted by an angry dog she snaps open the stick and uses fencing moves to keep it at bay.
Sacha says a good day for her is one where she's kept busy, may be thanked by someone for doing a good job and isn't yelled at. Then it's home to tell her staffie-cross Fudge Bucket that he has a lucky life.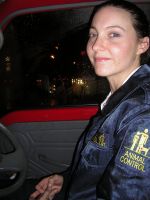 Sacha the dog catcher
Produced by David Steemson for Radio New Zealand