Rescue in the Rubble
A Search and Rescue team train their dogs under simulated conditions of a disaster. Audio
Urban Search and Rescuers (USAR) put their dogs and themselves through their paces during a simulated disaster in a derelict building which contains buried 'victims' trapped when the structure collapsed.
Nugget, the black Labrador, works rapidly over the caved-in floorboards, seeking the 'buried victim'. Our bodies shed an incredible 40,000 skin cells every minute and it's these tiny particles that the dog scents. Nugget soon sniffs out the volunteer 'victim', but not all rescues are this simple.
As a preliminary to another exercise, Nugget's handler Sue sprays fine chalk dust to ascertain the air flow. Scent-laden draughts can run many metres along walls and floors, leading dogs and rescuers to places well away from where the victim really is.
Of course it's vital for Urban Search and Rescue (USAR) teams) to get aid to the injured as fast as possible but within the limits of safety in unstable structures. Here again the dogs come into their own: handlers must be able to work their dogs at a distance and send them into areas where humans, being heavier, couldn't safely go.
On a comforting note… if the big quake was to devastate Wellington or any other centre of population, our USAR teams would be bolstered within hours by hundreds of trained rescuers, under UN auspices, from Australia, Singapore, Japan, the Philippines and other south-east Asian and Pacific regions.
Produced by Jack Perkins for Radio New Zealand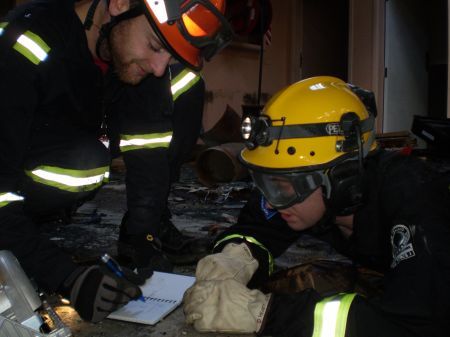 Notes on a rescue