The HMNZS Canterbury sailing through floating streams of pumice on the return voyage from Raoul Island (image: Rebecca Priestley) and Helen Bostock and HMNZS Canterbury coxswain Braden McKee with the biggest piece of pumice collected on the voyage (image: Sheelagh James).
Science writer Rebecca Priestley is on board HMNZS Canterbury en route to Raoul Island in the Kermadecs, along with Department of Conservation staff, a science team sent by Pew Environment Group, and a group of students on a Sir Peter Blake Expedition. They left New Zealand in August, a day after Tongariro and White Island erupted, which meant that the volcanologist who was meant to be on board the ship remained in New Zealand. A day into the trip Rebecca was on the bridge of the ship when news of a massive floating raft of pumice came through. But which underwater volcano did it come from?
Helen Bostok, a marine geologist with NIWA was on board so she was tasked with collecting some pumice for later analysis. Andrew Cowie from GNS Science works with Geonet and he was able to cast light on recent volcanic activity in the area, which included Monowai and Havre volcanoes. Back in New Zealand Rebecca caught up with Richard Wysoczanski from NIWA to find out about the Kermadec Arc, and Alison Ballance caught up with PhD students Melissa Rotella and Simon Barker who were given pumice sample to analyse, which confirmed that the pumice almost certainly came from an underwater eruption from Havre volcano.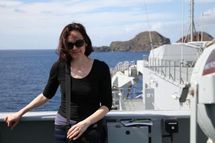 Rebecca Priestley (left, image: Bruce Foster) wrote a science column for the New Zealand Listener magazine on the pumice mystery, and an online blog explores the topic further, showing how marine organisms attach to pumice and are carried around the world's oceans.