Our Changing World for Thursday 11 October 2007
On This Programme
Environment
Hull's Creek in the Hutt Valley north of Wellington is undergoing a transformation. Amelia talks to Barry Wards, head of the Wellington branch of the New Zealand Ecological Restoration Network and deputy president of Upper Hutt Forest and Bird - and a team of volunteers at Hull's Creek who've worked in the area for years.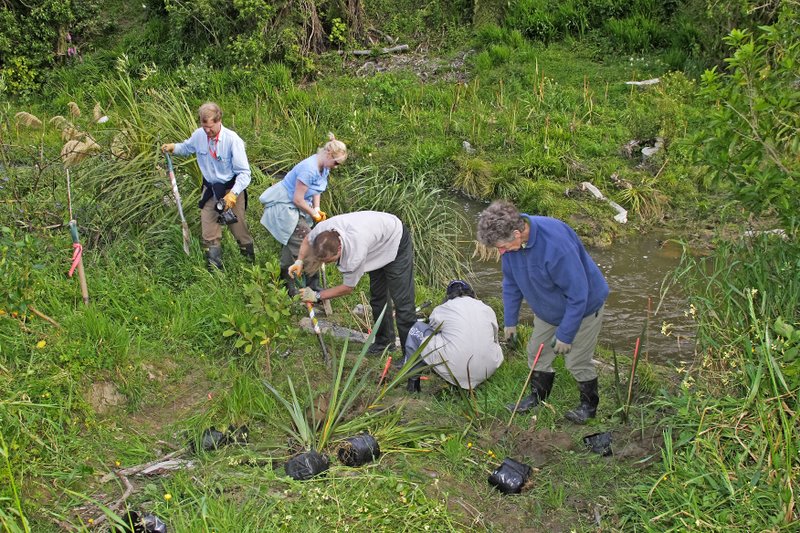 Science
A major exhibition of New Zealand fossils is being launched on a nationwide museum tour. "Dead Precious!" showcases highlights from the extensive fossil collection of GNS Science, many on display to the public for the first time. Dacia Herbulock tours the exhibition as the final preparations get underway.
We join the ABC's Robyn Williams to see how birds learn their complex songs - and hear about one bird who went well beyond singing - even beyond a few scattered phrases and seems to have developed quite complex abilities of human speech.
Health
Exercise can help to reduce the effects of depression - but why? Auckland University's Faculty of Sport and Exercise Science is looking at this and Louise Wallace pays a visit.
In Science News This Week
Scientists in Mauritius are warning that the Indian Ocean island's ambitious tourism targets will place too much strain on its remaining coral. Because of the uncertain future faced by its sugar and textile sectors, Mauritius is boosting tourism with a goal of two million tourists per year - more than double its current number. But scientists say they're nervous about the effects of reaching that target.
Doctors have long suspected it - and now a study of 9000 British civil servants has at last established it is possible to die of a 'broken heart'. The study, reported in the Archives of Internal Medicine, found the stress and anxiety of hostile, angry relationships can boost the risk of developing heart disease. Chances of a heart attack or chest pain rose by 34 percent compared to people on good terms with a spouse or partner.
Meanwhile recent studies have suggested that intensive meditation can improve attention spans and lower stress. Researchers now believe that in less than one week of practicing certain types of meditation practice can produce noteworthy improvement in ones' state of mind. The study of 40 Chinese undergraduates found that meditation sessions over 5 days improved overall mood and lowered levels of anxiety, depression, anger and fatigue.
Australia has taken its battle against Japanese whaling to the Internet with a new YouTube campaign that targets Japanese children. Australia's Environment Minister Malcolm Turnbull voices the subtitled video and asks, "Can you imagine what life on Earth would be like without these magnificent creatures?" Japan plans for the first time to hunt 50 humpback whales in the Antarctic over the coming summer, with the endangered animals currently migrating south along the Australian coast. Japan also plans to hunt 935 minke whales for scientific research. Mr. Turnbull says the video takes the fight to the court of public opinion.
France's Albert Fert and Germany's Peter Gruenberg have won the 2007 Nobel Prize for physics for a breakthrough in nanotechnology. Their discovery has let huge amounts of data be squeezed into ever-smaller spaces. Gadgets from powerful laptops to iPods owe their existence to this discovery.
The Nobel medicine prize has been awarded to three researchers who pioneered the creation of "designer mice" to demonstrate the roles of different genes in human development and disease. Mario Capecchi, Martin Evans and Oliver Smithies won the prestigious award for helping forge a new and fundamental branch of medicine -- gene targeting. The technique is used by scores of labs across the world and has helped pin down the function of ten thousand different genes.