Nine To Noon for Friday 9 March 2012
09:05 The Defence Force to stop forced 'civilianisation' of staff as morale plummets
Major General Louis Gardiner, former chief of the NZ Army who retired in 2009.
09:25 The power of pig poo
Stephan Heubeck, Niwa Energy research engineer on the system that's been developed to store greenhouse gases from pig manure and use them as an energy source.
09:45 Asia correspondent Phil O'Sullivan
The first anniversary of the 'Great Eastern Earthquake' in Japan and Singapore maids get a holiday.
10:05 Self-taught painter and Adam Portraiture Award winner Marty Welch
Self-taught painter Marty Welch who's just won the prestigious Adam Portraiture Award (worth $15,000 and handed out every two years). His former jobs including being a milkman and he honed his skill as an artist while spending years in Starship hospital at the bedside of his sick son.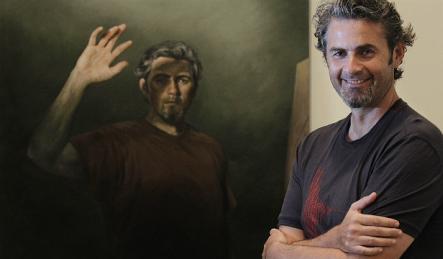 Marty Welch with his self-portrait, 3 Nights,  A Mirror & Loads of Coffee.
Adam Portrait Award at the NZ Portrait Gallery, Shed 11, Wellington Waterfront, Exhibition runs from February 22 until April 10, 10:30am - 4:30pm daily.
10:35 Children's book with John McIntyre
Kimble Bent- Malcontent by Chris Grosz
Published by Random House
ISBN 978-1-86979-516-0    
Shaolin Burning by Ant Sang   
Published by Harper Collins 
ISBN 978-1-86950-813-5
10:45 Book Reading: Still Alive by Panni Thomas & Pauline Cartwright
Panni Thomas, now living in Central Otago's Alexandra, survived the Khmer Rouge rule in Cambodia. This is her story.
Audio will be available here after broadcast.
11:05 New Music with Sean McKenna
Music from Bruce Springsteen, Anais Mitchell and Alabama Shakes.
Artist: Bruce Springsteen
Album: Wrecking Ball
Song:
Death To My Hometown
Land Of Hope And Dreams  
Artist: Anais Mitchell
Album: Young Man in America
Song: You Are Forgiven
Artist: Alabama Shakes
Album: Alabama Shakes
Song: Hold On
11:30 Sports commentator Joseph Romanos
Jesse Ryder's latest decision to take a break from cricket.