Nine To Noon for Thursday 8 March 2012
09:05 Treasury targets further job cuts and cost savings in public service
Andrew Kibblewhite, Treasury deputy chief executive; and Bill Ryan, Associate Professor at the Victoria University School of Government and co-editor of Future State: Directions for Public Management in New Zealand.
Treasury says another 2400 jobs could go from the public service in the Government's drive to reform the state sector. However a report released yesterday showed just $20 million of new savings was achieved last year, on top of $87 million the year before. Prime Minister John Key plans to deliver a speech as early as next week outlining the Government's thinking on further public sector reform.
Administrative & Support Services Benchmarking Report for the Financial Year 2010/11
09:35 Release of interim TAIC report into Rena grounding
Lorna Perry, Radio New Zealand Bay of Plenty reporter.
09:40 Feral cats
Darren Peters, the Department of Conservation's national predator officer; Sam Turner, Taranaki builder and pest trapper; and Nicholas Taylor, Wellington SPCA animal care and adoptions manager.
Feral cats are wreaking havoc across the country, posing a grave threat to native birds, lizards and frogs. The SPCA says it has been inundated with them, but it has a policy to trap, neuter and then release the cats, rather than cull them.
09:50 UK correspondent Matthew Parris
The 'mansion tax', upcoming UK Budget, and Prince Harry's visit to Jamaica.
10:05 Award-winning Hawkes Bay lighting and furniture designer David Trubridge
David Trubridge is best known for his iconic bamboo plywood lights. Based in the Hawkes Bay, the UK-born former forester sells his work all over the world and has exhibited at the prestigious 100% Design in London, the Salone del Mobile in Milan and the International Contemporary Furniture Fair in New York.
Gallery: work by designer David Trubridge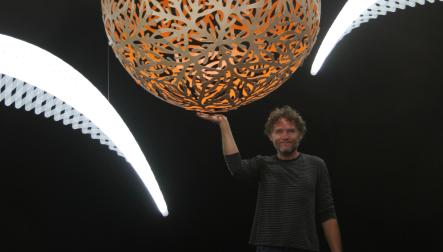 David Trubridge with his installation Icarus © David Trubridge Design.
10:35 Book review with Anne Else
Zen Under Fire by Marianne Elliott
Published by Penguin Group
10:45 Book Reading: Still Alive by Panni Thomas & Pauline Cartwright
Panni Thomas, now living in Central Otago's Alexandra, survived the Khmer Rouge rule in Cambodia. This is her story.
Audio will be available here after broadcast.
11:05 New Technology with Sarah Putt
Telecom's move to shut down its CDMA network in July; the Bill of Rights for mobile users; why we should celebrate infratructure; and Apple's latest iPad.
11:30 Archaeologist Brigid Gallagher
Fossickers, fieldwork, and why it's important to advocate for heritage.
11:45 Media commentator Gavin Ellis
Fair Go and advertising; Tamihere versus Bain; and the return of Q&A on TV One.