Nine To Noon for Monday 7 November 2011
09:05 Workers departing Christchurch after the quakes
A thousand workers a month have left Christchurch since February's earthquake - leaving a city desperately short of skills in some sectors. Central city hotels, restaurants and retailers are reportedly the worst affected.
Canterbury Restaurant Association head Michael Turner and Canterbury Development Corporation workforce strategy manager Simon Worthington.
09:25 Children and consumerism
UK researcher and marketing expert Agnes Nairn, the author of a UNICEF report that finds British parents are showering their children with toys and designer labels in a cycle of compulsive consumerism.
09:45 Europe correspondent Seamus Kearney
Discusses the latest twists and turns in the debt crisis
10:05 Election debate: Education
Anne Tolley, Sue Moroney, Catherine Delahunty and Kaapua Smith outline the National, Labour, Green and Maori party policies on education.
10:45 Reading: The Years Before My Death written and read by David McPhail (Part 6 of 10)
David recalls more about television comedy's early days in New Zealand.
Audio will be available here after broadcast.
11:05 Politics with Matthew Hooton and John Pagani
The Green party campaign launch and Winston Peters rules out working with other political parties.
11:30 Guest chef Jo Seagar and wine commentator John Hawkesby.
Jo Seagar is one of New Zealand's best known cooks, author of many bestselling cookbooks. She runs Seagars at Oxford in North Canterbury, which is a cafe, cookschool and kitchen store.
On the menu today -
Italia: Simple Recipes from the Italian Cook School, published by Random House.
11:45 Off the Beaten Track with Kennedy Warne
Food imperialism and social justice.
Kennedy's latest book is Let Them Eat Shrimp: The Tragic Disappearance of the Rainforests of the Sea, published by Island Press.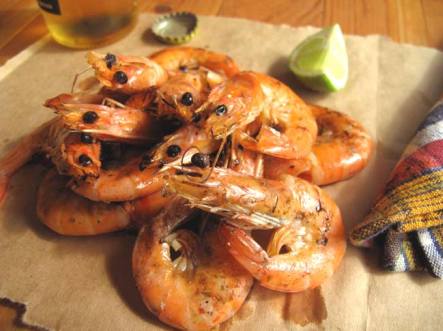 TIger shrimps. Photograph by Kennedy Warne.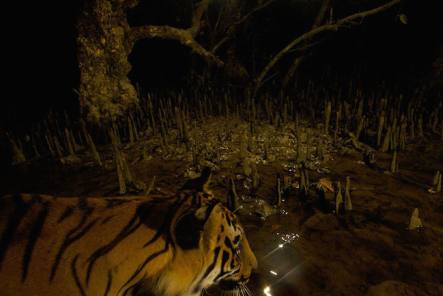 Royal Bengal tiger photographed by Tim Laman in the Sundarbans mangrove forest, Bangladesh, for National Geographic.