Nine To Noon for Friday 4 November 2011
09:05 Section 38 notice for Christ Church Cathedral
The earthquake-damaged Christ Church cathedral has been issued with a Section 38 notice - what does that mean for its future? Warwick Isaacs, CERA's demolitions manager.
09:20 Future of Christ Church Cathedral
Gary Moore, former mayor and passionate Cantabrian; and Ian Lochhead, chair of heritage campaign group, Iconic, and Associate Professor in Art History who's an expert in architectural conservation.
09:30 Two thirds of New Zealanders underestimate how long they are going to live
Alison O'Connell is an actuary and researcher currently completing a PhD on longevity risk at Victoria University.  She edits the regular Longevity Bulletin journal for the actuarial profession.  Before emigrating to NZ in 2006, Alison was the Director of the Pensions Policy Institute in London, where she was involved in reforms to the UK state pension to be more like NZ Super, and in the plans to raise the UK's pension age to 68.
09:45 Pacific correspondent Mike Field
10:05 Farmer and children's writer Hayley Pitts
Children's author Hayley Pitts lives on the remote Mount Gladstone station in the Marlborough high country. She combines writing with home-schooling her two young boys and helping her husband on the farm.
Some of the proceeds from her first book, Mac: A High Country Working Dog, go to the Life Flight air rescue trust - she has been an avid supporter of it since it came to her aid after she was injured while on a horse trek. She has a new book that's about to go on sale - it's about her horse Storm.
Gallery: Hayley Pitts and her family at Mt Gladstone Station.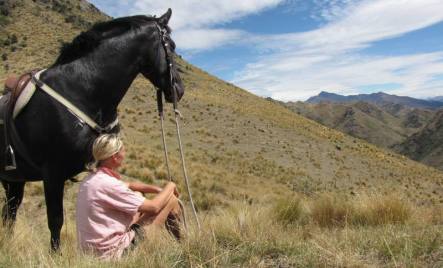 Hayley Pitts and her horse at Mt Gladstone Station.
10:35 Children's book review with John McIntyre
Poo Bum by Stephanie Blake
Gecko Press 
ISBN: 978-1-1877467-97-4
Bruiser by Gavin Bishop
Random House       
ISBN: 978-1-86979-451-4
Rudie Nudie by Emma Quay
ABC Books     
ISBN: 978-0-7333-2333-5
10:45 Reading: The Years Before My Death written and read by David McPhail (Part 5 of 10)
David has just met up with the man who is to be his long-term partner in comedy Jon Gadsby,  and along with some other talent, they're about to embark on making A Week of It.
Audio will be available here after broadcast.
11:05 New music with Sean McKenna
Artist: Fatoumata Diawara
Album: Fatou
Song: Bissa
Video: Bissa
Artist: DRC Music
Album: Kinshasa One Two
Song: Lourds featuring Yende Bongongo of Okwess International
Video: The Making Of...
Hallo
Artist: Ria Hall
EP: Ria Hall
Song: Best of Me
Artist: Various artists
Album: Tally Ho!
Song: Sneaky Feelings - Husband House 
The Clean – Tally Ho!
Radio New Zealand Flying Nun documentary series
30 Flying Nun shows in Nunvember
11:30 Sports commentator Richard Boock
The imprisonment of two Pakistani cricketers for spot fixing - is cricket the only game to fall prey to corruption?
11:45 The Week That Was with Radar and Irene Pink