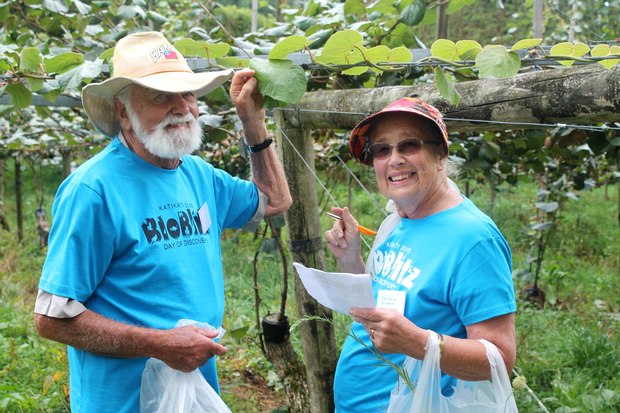 Bruce and Trixie Harvey out collecting plant samples.
Last weekend the rural, Bay of Plenty town Katikati hosted what's believed to be the biggest BioBlitz ever held in New Zealand.
The BioBlitz set out to identify every living organism in the Uretara catchment, an area that runs from the Kaimai Range to the Tauranga Harbour.
Organiser and retired scientist Peter Maddison says the 24 hour event was the country's first to take in a whole catchment and township.
"This also is the most comprehensive BioBlitz in including not just the obvious plants and animals, but also making a start on the bacteria and fungi that occur on and in our bodies and those of our pets and farm animals, and also those moulds and other greeblies that inhabit our food and houses."
The aim was to catalogue 2400 species and, at the last minute, that number was surpassed.
Scientists were brought in from around New Zealand to identify species. Samples were also sent to scientists and labs  in Australia for analysis.
Auckland-based botanist Trixie Harvey was given the job of identifying all the plants she could find on a kiwifruit orchard. She'd named 32 plants just wandering up the driveway.
"One of the interesting things is that people come and do something like this and all of a sudden they realise how many different types of plants and types on insects there are. People walk around sometimes not even noticing."
During the 24 hours an elusive moth that hadn't been seen in New Zealand for 25 years was found, another moth that could be a recent arrival from Australia was captured, and soil and water samples revealed five bacteria that are new to science.  
A native geranium that has disappeared from many parts of the country was discovered in the Bay of Plenty for the first time and the rare slug-like peripatus was found in leaf litter.
Peter Maddison says results from the BioBlitz will form a basis for on going studies and will suggest areas for future restoration and conservation, species to protect, and issues to confront.


Left: Dr Peter Maddison. Right: Panorama of the Uretara catchment.