Afternoons with Jesse Mulligan for Friday 24 July 2015
1:10 Your Song
Rehab - Jolly Boys.  Chosen by Jesse Mulligan.
1:20 NZ Live - THE LADYKILLERS 
One of the most soulful  musical partnerships of the last decade are with us, THE LADYKILLERS, Suzanne Lynch, Tina Cross and Jackie Clarke!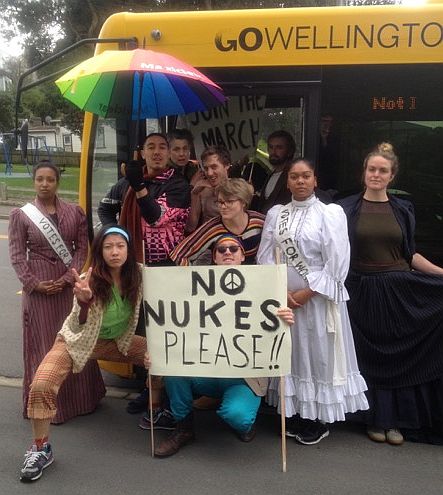 2:10 Wellington 150th anniversary  
Wellington is celebrating 150 years as the county's capital this weekend. We speak to the artistic director of Barbarian productions who has a team of actors playing political 'agitators' on buses around the city  - celebrating important pieces of legislation that have transformed New Zealand over the past 150 years. So if you're catching a bus to parliament this weekend, don't be surprised if you bump into a Kate Sheppard look-a-like!
2:20 New Zealand Society
At one hundred and three,  Bill Tuckey of Rawene goes for a walk every day to stop  " seizing up" as he puts it. Bill's wife died twenty years ago and he has out-lived two of his six children. 
2:30 NZ Reading - How To Make Your First Billion
The final episode of our  drama-documentary  following the fortunes of an internet  start-up  in Silicon Valley.  'Three-Times-Gee'  is still not making any money for its founders  but  today, the young entrepreneurs are setting out to change all that.
2:45 Feature album
Diana Ross - Diana Ross (1976)  
3:10 Food, Wine and Movies
Fresh Fast Food - Jonny Schwass - Kentucky Fried Quail
Weekend Wine - Yvonne Lorkin
Movie Review - Sarah McMullan
3:45 The Panel Pre-Show
What the world is talking about.  With Jim Mora, Bridget Mills, Ella Henry and Wendyl Nissen.