Afternoons with Jesse Mulligan for Wednesday 2 March 2011
All schedules are subject to change due to coverage of the Christchurch earthquake.
1:10 Best Song Ever Written
Lyndsay Freer, Catholic Communications Auckland and the Italian earthquake song Domani.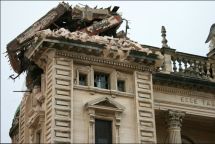 1:15 How people are helping Christchurch
Christchurch born radio and television personality Jason Gunn and his wife Janine have come up with a unique proposal for raising money for badly affected Christchurch families. They are asking people to adopt a Christchurch family. A website is up and running to co-ordinate the appeal.
Tomorrow night a special vigil will be held at Westminster Cathedral for the victims of the quake. There's also a charity concert to raise money for the earthquake appeal.
Many of the thousands of New Zealanders living in London have stopped in for a beer and a pie at the The Castle Bar in Battersea. The pub is owned by New Zealanders who are holding a fundraiser.
The Rangiora Earthquake Express was the brain child of Brendan Malone and his mate Chris who on Wednesday last week, came up with an idea to help the citizens of East Christchurch.
2:10 Feature stories
The Kiwi Club of New York and their fundraising appeal; Adam McGrath and his band, The Eastern, will be performing in on makeshift stages in backyards, living rooms and lawns in the suburbs of Christchurch and Lyttleton for free.
2:30 Reading
The last reading from Mark Inglis' story To The Max.
The year is 1982 .After 14 days stranded in a snow cave on Mt. Cook, Mark and Phil Doole have been rescued and are in Burwood Hospital in Christchurch with severe frostbite.
2:45 Feature Album
Supersytem, the debut album by The Feelers, released in 1998. It has sold over four times platinum in the NZ Music Charts and is the winner of five NZ music awards in 1998.
3:12 Virtual World
Jules Older talks about the world of IT.
3:33 Auckland story
Albertlanders are members of a variety of mostly non conformist churches in the United Kingdom, who came to colonise a little bit of New Zealand, almost 150-years ago.
An Albertlanders reunion is being organised for Easter 2012,150-years since the first Albertlander ship arrived in 1862.
4:06 The Panel
Amanda Millar and Tony Doe.