Afternoons with Jesse Mulligan for Monday 4 October 2010
1:10 Best Song Ever Written
In the Quiet Morning sung by Joan Baez chosen by Brian Langley from Dunedin.
1:15 8 Months To Mars - what would well-known people do on an trip to Mars?
Nick Dwyer, also known as Nick D.
2:10 Feature stories
In 2008 Lenore Skenazy dropped her nine-year-old son in downtown Manhattan to take the subway home alone. He got home ok and she got a firestorm of abuse from around the world. She started a movement called called Free Range Kids, urging parents to stop hovering, take the bubble wrap off the kids and teach them independence by loosening the reins.
Cartographic immortality has been granted to 11 of the the dogs and ponies used in the great race to the South Pole in the winter of 1911-1912 by Robert Falcon Scott and Roald Amundsen. The names of the animals will mark navigation waypoints along the main air routes between New Zealand and McMurdo Station.
2:30 You, Me . . . Now!
Things are hotting, or actually cooling down. Last week we left Alice in despair after Johno failed to ring her despite his promise to do so.
2:45 He Rourou
The annual National Secondary School Maori speech competitions Nga Manu Korero wrapped up recently and the award for the best senior competitor in the Maori language section went to Herea Winitana. Ana Tapiata caught up with the Turangi student just after the prize giving ceremony.
2:50 Feature Album
Pearl - the fourth and final album by American singer/songwriter, Janis Joplin, who died exactly 40 years ago of a drug overdose.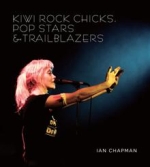 3:12 Author Slot
Ian Chapman, lecturer in Contemporary Music at the University of Otago. His specialist subject is the pop culture of the seventies, an era he demonstrates his ongoing commitment to by driving a Triumph, playing a Flying V guitar and collecting platform shoes. His research has also found a form in the glittery persona of Dr. Glam, his performance alter ego. It wasn't Dr Glam who wrote his latest book though, it was Ian Chapman.
Kiwi Rock Chicks, Pop Stars & Trailblazers by Ian Chapman
Published by Harper Collins
ISBN 9781869508302
3:47 Our Changing World
A team of NIWA scientists are in London, to report back on their part of the Census of Marine Life, a 10 year international effort to find out what lives in the world's oceans. The census findings will be revealed at the Decade of Discovery conference tonight.
The New Zealanders have been leading a global research project on seamounts, and before they left for London Alison Ballance caught up with Malcolm Clark, Mireille Consalvey and Ashley Rowden to find out about their key findings, and discover what seamounts actually are.
4:06 The Panel
Neil Miller and Linley Boniface.