Sound Lounge for Friday 12 June 2015
7.00 Strange Celestial Road - a journey into music and myths of Sun Ra
For the 79 years he was on planet Earth, Sun Ra forged his own unique pathway through modern history, from an era of steam trains, early jazz and player pianos, to a world of spaceships, synthesizers and abstract noise. Ra claimed that he was an angel, sent from Saturn to rescue the people of Earth through music. He talked in rhymes and parables, creating his own character set in an intricately constructed world, taking in aspects of ancient Egypt, religions, esoteric knowledge and outer space. Through this series Dan Beban looks into the vast recorded archive of Sun Ra's music, and plots a course through the myths and legends of his life.
(2) The Ra Ship Has Landed
Looking at the formation of the Arkestra, the cosmic big band that Sun Ra started in the mid-1950s and which became his vehicle for musical exploration for the rest of his life. We meet some of the Arkestra's key members, and listen to the group's first recordings, Angels and Demons at Play, Supersonic Jazz, Sound of Joy and others, tracing a path from big band swing to space age jazz.
Listen to Dan Beban talking with Upbeat's Eva Radich about Sun Ra
7:00 PM.In the mid 50s Sun Ra formed the Arkestra, the cosmic big band that would become his vehicle for musical exploration for the rest of his life. In contrast to the strip club bands he'd been working… Read more Audio
9:00 Relevant Tones
Finding the Bridge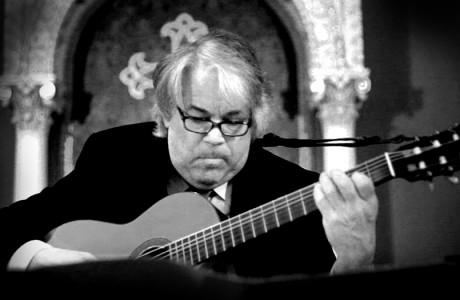 Founded in 1981 by enterprising guitarist and tireless contemporary music promoter David Starobin, Bridge Records was one of the first-ever contemporary music labels and is still going strong today.  Their adventurous spirit and admirable devotion to sonic clarity has garnered them no fewer than 20 Grammy nominations over the years. Tune in to hear why. (WFMT)
 
John Adams: 5 Pages from John's Book of Alleged Dances
I- Judah to Ocean
Yousif Sheronick, percussion; Lark Quartet, strings (Deborah Buck, Violin 1; Basia Danilow, Violin 2; Kathryn Lockwood, Viola; Caroline Stinson, Cello)
Bridge 9423
2:10
Ronald Roxbury: Goodbye My Fancy
Patrick Mason, baritone; Susan Palma, flute; David Starobin, guitar
Bridge 7006
4:29
Shulamit Ran: Mirage
The Da Capo Chamber Players: Patricia Spencer, flute; Laura Flax, Clarinet; Eric Wyrick, Violin; Andre Emelianoff, cello; Sarah Rothenberg, piano
Bridge 9052
10:21
Dan Visconti: Ramble and Groove
Scharoun Ensemble, Markus Weidmann; bassoon
Bridge 9386
6:53
Mario Davidovsky: Synchronisms #10 for Guitar and Electronic Sounds
David Starobin, guitar
Bridge 9042
9:30
Jennifer Higdon: Scenes from the Poet's Dreams
III- 3:49
V- 3:42
Lark Quartet (Deborah Buck, Violin 1; Basia Danilow, Violin 2; Kathryn Lockwood, Viola; Caroline Stinson, Cello), Gary Graffman, piano
Bridge 9379
Paul Lansky: Horizons
I- Up Close 5:11
II- Rough Edged 4:51
III- Vanishing 5:59
Real Quiet (Andrew Russo, Piano; Felix Van, Violoncello; David Cossin, percussion); Mihae Lee, pianist
Bridge 9405