Index
Afghanistan are the highest ranked of the four association nations which qualified for the Cup.
The joint hosts for 2015 are the most successful team in the tournament's history, winning four times in total in 1987, 1999, 2003 and 2007.
Playing at home they can beat the best, but in New Zealand and Australian conditions they may struggle.
England are starting to put off-field distractions behind them, though few count them among the favourites for this year.
India are still second in the one-day international rankings, but failed to win a game against Australia and England in the recent tri-series tournament.
This is Ireland's third consecutive one-day World Cup tournament, though they may struggle to have the same impact as they did in the two previous editions in 2007 and 2011.
The Black Caps have never reached a World Cup final but have their best chance since the tournament was last held in New Zealand and Australia in 1992.
Pakistan cricket fans will be looking forward to their side competing in the World Cup in Australia and New Zealand.
If any one of the four associate nations is to topple one of the top ten sides at this tournament, it'll more than likely be Scotland.
South Africa go into this world cup again ranked among the favourites but also seeking to finally rid themselves of the tag of chokers.
Sri Lanka have never been rated as favourites at World Cups by virtue of their mercurial nature, though it's that very characteristic which makes them a threat against any side.
The United Arab Emirates is competing at its first World Cup in almost 20 years, having previously only competed at the 1996 tournament.
The West Indies aren't rated as having much of a chance this year, with many pundits suggesting they'll struggle to advance from the group stage.
Zimbabwe go into the Cricket World Cup as the lowest ranked of the top playing nations.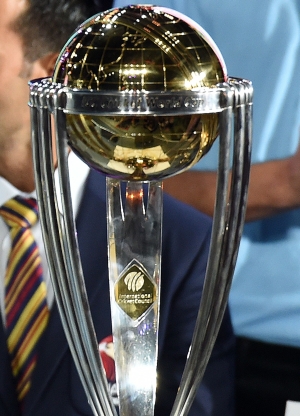 Cricket World Cup trophy. Photo: AFP.