United Arab Emirates
The United Arab Emirates is competing at its first World Cup in almost 20 years, having previously only competed at the 1996 tournament.
They're coached by former Pakistan international Aaqiib Javed who was a member of the 1992 side that beat New Zealand in the semifinals and went on to win the trophy.
Mohammad Tauqir will captain the side in the tournament, supported closely by vice-captain and experienced former leader Khurram Khan.
The UAE only enjoyed one win at the 1996 tournament when they beat the Netherlands.
Javed though is more optimistic this time around.
"I think that in 1996, no one took the UAE as seriously as they do today. There was only limited exposure to the world. People weren't sure how good UAE cricket was.
"But now, people have seen UAE playing at different levels, and I think we can surprise a few people and a few teams," he said.
He believes if his side can score 230 runs plus in an innings, it will give his bowlers something to defend.
"We are just struggling against some of the stronger teams, averaging 215-220, and that's what we have to push up."
UAE starts off its campaign with matches against Zimbabwe in Nelson and Ireland in Brisbane.
These two matches will also provide it with its two best opportunities for wins in Pool B.
If UAE does manage to start its campaign off on a winning note and gain some momentum, it should certainly boost its chances of putting up a good show against the bigger teams.
Javed's major concern however is keeping his players calm in the cauldron of a World Cup.
UAE is the most inexperienced team. All 15 members of the squad put together have a cumulative experience of 71 ODIs, the least among the 14 teams.  
"With the mega events like this, you need to make sure your players are calm, not over-excited. Control their emotions and aggression.  The ideal situation is to bring the feeling that you are playing for your club and then you can relax and perform at your best."
Khurram Khan is a genuine threat, having been a consistent and reliable performer with the bat last year scoring 334 runs in six ODIs at 83.50.
UAE is part of Pool B, which also includes defending champion India, South Africa, Pakistan and West Indies.
Key players: Batsman Khurram Khan, all-rounder Kamran Shahzad.
UAE: Mohammad Tauqir (capt), Khurram Khan, Swapnil Patil, Saqlain Haider, Amjad Javed, Shaiman Anwar, Amjad Ali, Nasir Aziz, Rohan Mustafa, Manjula Guruge, Andri Berenger, Fahad Al Hashmi, Muhammad Naveed, Kamran Shahzad & K Karate.
Draw:
February 19th: UAE vs Zimbabwe, Saxton Oval, Nelson.
February 25th: UAE vs Ireland, Brisbane Cricket Ground, Brisbane.
February 28th: UAE vs India, WACA, Perth.
March 4th: UAE vs Pakistan, McLean Park, Napier.
March 12th: UAE vs South Africa, Wellington Regional Stadium, Wellington.
March 15th: UAE vs West Indies, McLean Park, Napier.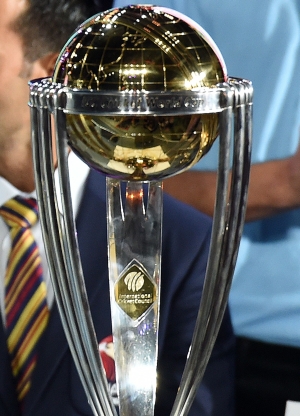 Cricket World Cup trophy. Photo: AFP.