England
England are starting to put off-field distractions behind them, though few will count them among the favourites for this year's World Cup.
They have never won the tournament, despite appearing in three previous finals.
Led by the smart slugger Eoin Morgan, who replaced struggling Alastair Cook as captain at the end of last year, England find themselves in pool A taking on favourites Australia, hosts New Zealand, and dark horses Sri Lanka.
Stalwart Ian Bell and the much vaunted Moeen Ali will need to contribute runs opening the batting, as number three James Taylor is more potential than promise at this stage of his career.
But perhaps England's key player will be the swinging pacer James Anderson, who has been key both in opening his team's bowling attack and in taking on the bit-hitters at the death.
If he can take wickets, it will ease the pressure on England's other pacers, Stuart Broad, Steven Finn, and Chris Woakes.
Some would argue the side would have a far greater change of winning the tournament with outspoken Kevin Pieterson playing, but England's selectors would disagree.
The absence of Ben Stokes from the team's middle order could prove more damaging.
It would be easy to rate England's first two games as key, but the side should be wary of the group's more unheralded threats who could derail their campaign before it really gets going.
Key players: Fast bowler James Anderson, captain and batsman Eoin Morgan, all-rounder Moeen Ali.
England: Eoin Morgan (captain), Moeen Ali, James Anderson, Gary Ballance, Ian Bell, Ravi Bopara, Stuart Broad, Jos Buttler, Steven Finn, Alex Hales, Chris Jordan, Joe Root, James Taylor, James Tredwell, Chris Woakes.
Draw:
February 14th: England vs Australia, Melbourne Cricket Ground, Melbourne.
February 20th: England vs New Zealand, Wellington Regional Stadium, Wellington.
February 23rd, England vs Scotland, Hagley Oval, Christchurch.
March 1st, England vs Sri Lanka, Wellington Regional Stadium, Wellington.
March 9th, England vs Bangaldesh, Adelaide Oval, Adelaide.
March 13th, England vs Afghanistan, Sydney Cricket Ground, Sydney.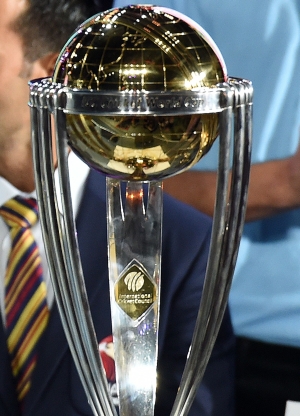 Cricket World Cup trophy. Photo: AFP.