Our Changing World for Thursday 12 June 2008
On This Programme
New Zealand was one of the last places on Earth to be settled by prehistoric people, but the exact timing of their arrival has sparked a controversial debate among scientists. Veronika Meduna talks to archaeologist Atholl Anderson, at the Australian National University, and Janet Wilmshurst from Landcare Research, whose team has carbon-dated fossil bones of the Pacific rat, or kiore, as well as rat-gnawed seeds. The research found that the dates of the bones and seeds match the earliest archaeological evidence of human settlement in New Zealand.
Above Right: Janet Wilmshurst sieving sediments at one of the sites that was re-excavated to analyse kiore bones. Image courtesy of Landcare Research.
During the month of June - from World Environment Day to Greytown's Arbor Day in early July - Greytown becomes "Greentown", hosting a series of events focused on sustainability. Dacia Herbulock travelled over the Rimutaka hills to observe the preparations and learn more about the concept.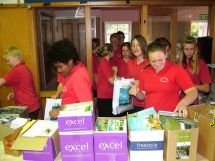 Students packing Greentown bags and right, with Warren Field.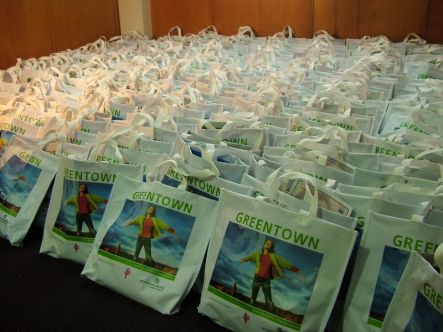 Greentown bags.
Photos supplied by Greater Wellington Regional Council.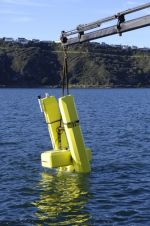 The ocean waves that hit New Zealand's coasts are an untapped source of energy. The power stored in the waves generated by the Roaring Forties winds in the Southern Ocean and Tasman Sea can exceed 100 kilowatts per metre of wavefront and wave energy could become one of New Zealand's renewable energy options. Veronika Meduna joins a team of researchers from the National Institute of Water and Atmospheric Research and Industrial Research as they check out a prototype wave energy generator in Wellington Harbour.
Right: WET-NZ prototype wave energy device being lowered into the water at Evans Bay, Wellington. Photo by Alan Blacklock, NIWA.
Matariki has begun, marking the traditional beginning of the Maori New Year. To find out more about the stars and what makes the night sky at this time of the year special, Dacia Herbulock sought out Richard Hall of the Phoenix Astronomical Society. She caught up with him at the Society's annual Winter Astrocamp, held in the Wairarapa.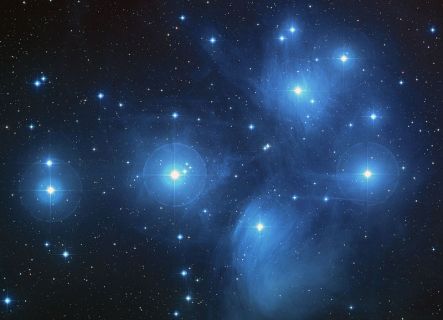 The Matariki / Plaides constellation.