Monday, 18 August 2014
"It's the friendship and the chance to play this kind of music, that's the highlight for me" – says Hui Luo, Director of the Confucius Institute in Wellington but also the clarinettist for the band The OrientXpress.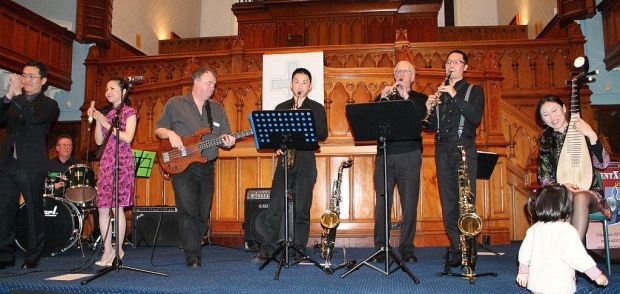 Gao Yang (vocals), Hong Mei Wei (vocals), Grant Hannis (bass), Han Jai (founding member, sax), Michael Bain (founder, sax), Hui Luo (founder, sax) and Jingyuan
3:30 PM.Going since 2006, The Orient Xpress is a nine member Wellington-based band who pride themselves on evoking the sounds of pre-WWII jazz music from Shanghai. They also use traditional instruments like… Read more Audio
The famous romantic long distance passenger train ride, The Orient Express, first blew steam and rolled down the tracks from Paris to Istanbul in 1883. The OrientXpress is also the name that a group of talented and like-minded musicians gave themselves.
On a rather wet and cold night in our capital city Saint John's Church is alive with music – for 24 hours. It's a "musicathon" raising funds for Water for Westbank. A worthy cause that prompted the OrientXpress to participate. When I arrive early evening it's not just a full band on stage performing but two pre-school children as well, playing freely amongst the band members. Knee-high to grass-hopper children provide an endearing visual component to this really interesting retro-jazz band.
Who are the OrientXpress?
It all started in 2006 with a group of three core band members: Han Jai, Hui Luo and Michael Bain. Han Jai and Hui Luo were learning to play wind instruments under the tutorage of Michael. They're a Wellington City band, local musicians. Officially they have eight band members but now they've nine (not including two children) with the recent addition of Jingyuan on the Pi-pa. What's a Pi-pa? First let's look at what kind of music and era The OrientXpress are trying to evoke.
It's 1920's and 30's jazz but not just any jazz. Jazz played in pre-World War II with original compositions of the era sung in English or Mandarin and songs adapted with really old (as in 2,000-year-old) traditional instruments like the Pi-pa.
"It's like transporting modern day songs – back to the future" –  says Bass player Grant Hannis.
"Some people think of Shanghai, some people think of colonial China, some people think of Cosmopolitan Shanghai today" – says Hui Luo.
And the Pi-pa's two-thousand-year evolving history: from the Silk Road (West Asia through to Europe) the evolution of this four-stringed lute began as a horizontal instrument originally played on the lap like a guitar. Nowadays it is played up-right. Hui Luo tells me it probably originated in central Asia and went West – there's a lots of cultural heritage from this area – Eurasia; non-Chinese cultural influences, that became integrated from foreign origins. They are now quintessentially Chinese and also part of the repertoire of The OrientXpress.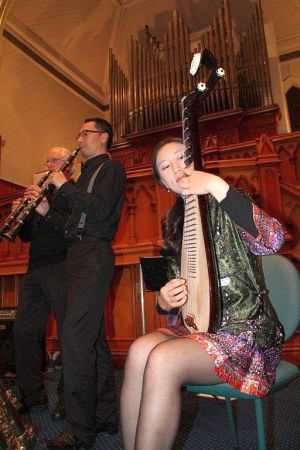 The OrientXpress are: Michael Bain (Founding member and sax), Hong Mei Wei (female vocals), Gao yang (male vocals), Han Jai (Founding member and saxophone), Hui Luo (Founding member, sax and clarinet), Grant hannis (Bass player), Jingyuan (Pi-pa), Alice Qiao (Pianist) and Alan Burden (Drums).
There is a night club in Auckland's Parnel Rise called Shanghai Lil's – themed on 1930's Shanghai, a unique bar and lounge that The OrientXpress had not yet heard of until I mention it. It would be a perfect fit – the next gig for The OrientXpress being at Shanghai Lil's in Auckland and then perhaps a tour to the Bund in Shanghai?
All we need is a sponsor says Michael, and we'll be there!
Links:
The OrientXpress