Saturday Morning for Saturday 14 March 2015
8:12 Moera Tuilaepa-Taylor: Vanuatu update
Moera Tuilaepa-Taylor is a journalist for Radio New Zealand International, and will provide an update of the impact of Cyclone Pam on Vanuatu.
8:20 Brian O'Connell: 48 hours of drugs in Ireland
Brian O'Connell is a television and radio broadcaster, based in Cork, whose work also appears in the Irish Times, and several international publications. His 2009 book, Wasted (Gill & Macmillan), examined Ireland's relationship with alcohol. He will discuss this week's inadvertent temporary legalisation of a range of consciousness-altering drugs in Ireland.
8:35 Stefan Sobkowiak: recreating Eden
Stefan Sobkowiak trained as a biologist and landscape architect, and has taught fruit production, landscape plants and design, and the natural history of vertebrates at Montreal's McGill University. He owned a landscape design firm for 20 years, developing hundreds of projects for private, institutional and municipal clients, and he has been running Miracle Farms as an organic, then permaculture business since 1993. His work is the subject of the 2014 feature documentary The Permaculture Orchard, and he is currently travelling New Zealand from Northland to Central Otago on the Beyond Organic tour, leading a series of 20 talks and workshops (11 March to 6 April).
9:05 Bruce Sheridan: psychology of creativity
Bruce Sheridan is the Chair of Cinema Art + Science at Columbia College, Chicago, and North American regional Chair of CILECT, the world organisation of film and media schools. He has returned to New Zealand as the fourth Creative Fellow for the University of Auckland's Creative Thinking Project, to deliver a series of public lectures drawing on recent research into creativity and discussing evidence from neuroscience and cognitive psychology to make the case for reintegrating art and science in education.

9:45 Art Crimes with Arthur Tompkins: Isabella Stewart Gardner
Arthur Tompkins is a District Court Judge, and member of Interpol's DNA Monitoring Expert Group. He has a special interest in crimes involving artistic masterpieces, and will discuss the 1990 theft of 13 works from the Isabella Stewart Gardner Museum in Boston, Massachusetts.    
10:05 Playing Favourites with Sean Donnelly
Auckland musician Sean Donnelly records and performs as SJD, and was awarded the 2013 Taite Prize for his album Elastic Wasteland. His seventh album, Saint John Divine (Round Trip Mars, released 27 March), is the first of a planned trilogy. He will be joined in the studio by collaborators Victoria Kelly and Sandy Mill.
11:05 David Graham: Hillary Clinton
David A. Graham is a staff writer at The Atlantic, where he covers political and global news. He previously reported for Newsweek, The Wall Street Journal, and The National. He will discuss the fallout from Hillary Clinton's use of a home email server.
11:20 Anastasia Radevich: footwear art
Anastasia Radevich is a shoe designer and footwear artist of Belarus origin. She studied in London with fashion creators Alexander McQueen, Nicholas Kirkwood and Bolongaro Trevor, and now lives and works in Montreal, Canada. Photos; Anastasia Radevich

11:40 Lonnie Hutchinson: black and white
Lonnie Hutchinson is an artist of Ngai Tahu and Samoan heritage. She is currently working on a major commission for Christchurch's justice precinct, and a major survey of her work from 1997 to 2013, BlackBird, is currently exhibiting at the Gus Fisher Gallery in Auckland (to 2 May). On 14 March at the Gallery as part of White Night at the Auckland Arts Festival, there will be two performances (6pm and 8pm) by Darcell Apelu and Amiria Puia-Taylor of her work Can You See Me, in which a female figure is taped to the ground and struggles for release.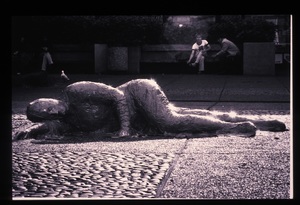 Lonnie Hutchinson installations: Waiting forLe_Ma'oma' and Can You See Me
This Saturday's team:
Producer: Mark Cubey
Auckland engineer: Alex Baron
Wellington engineer: Carol Jones
Research by Infofind
Music played in this show
Song: Was I Always Here
Artist: SJD
Album: Saint John Divine
Label: Round Trip Mars, 2015
Broadcast: 10:05
Song: Beautiful Day
Artist: Voom
Album: Hello, Are You There
Label: Lil' Chief, 2006
Broadcast: 10:20
Song: Beautiful Haze
Artist:  Sean Donnelly, Sandy Mill and Victoria Kelly
Album: Live in the Auckland studio of Radio New Zealand (song from the 2007 album, Songs from a Dictaphone)
Broadcast: 10:30
Song: Little Pieces
Artist:  Sean Donnelly, Sandy Mill and Victoria Kelly
Album: Live in the Auckland studio of Radio New Zealand (song originally from the 2015 album, Saint John Divine)
Broadcast: 10:40
Song: Point That Thing Somewhere Else
Artist: The Clean
EP: Boodle, Boodle, Boodle
Label: Flying Nun, 1981
Broadcast: 10:55