Saturday Morning for Saturday 21 February 2015
8:15 Chris Clarke: mideast crisis
Chris Clarke is the CEO of World Vision in New Zealand. He has worked in Europe with the World Health Organisation, and was CEO of the Hawke's Bay District Health Board from 2003 to 2009. He recently visited Iraqi Kurdistan and Lebanon, in advance of the launch of World Vision's Syrian refugee appeal which they are launching with the New Zealand Herald on 7 March.
Orin Hargraves is a lecturer in linguistics who works on the computational analysis of language at the University of Colorado. He is the author of It's Been Said Before: A Guide to the Use and Abuse of Cliches (Oxford University Press).

9:05 Allan Ropper: neurological rabbitholes
Dr Allan H. Ropper is a Professor at Harvard Medical School, the Raymond D. Adams Master Clinician at Brigham and Women's Hospital in Boston, and is credited with founding the field of neurological intensive care With Brian David Burrell, he is the author of Reaching Down the Rabbit Hole (Atlantic), telling the extraordinary stories behind some of the brain disorders that he and his staff endeavour to treat.
9:45 Karaitiana Taiuru: Te Reo and the mainstream
Karaitiana "KT" Taiuru is an indigenous advocate for Te Reo, and has written on how Maori language could be better integrated in Aotearoa, and how the internet can play a crucial role in normalising Te Reo for younger people.
10:05 Playing Favourites with Bob Brockie
Dr Robert Brockie has been editorial cartoonist for the National Business Review

continuously since 1975. He is also a respected scientist, and leading authority on hedgehogs and possums, and has contributed a weekly science column to Wellington's Dominion Post for the last two decades. His new book, Brockie: a Memoir in Words, Cartoons and Sketches (New Zealand Cartoon Archive/Fraser Books) is published on 26 February.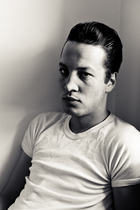 11:05 Marlon Williams: country maverick                           
Singer and songwriter Marlon Williams has been performing since the age of 16, when he fronted alt-country band The Unfaithful Ways. He has performed with Delaney Davidson, and recorded a series of duet albums titled Sad But True – The Secret History Of Country Music Songwriting, winning the New Zealand Country Album and Country Song of the Year in 2013. He has been based in Melbourne since 2013, and with his band The Yarra Benders will play the last date of his New Zealand tour in Wellington on 21 February, before embarking on an Australian tour. His new single, Dark Child, is out now, and his debut solo album will be released in April.
11:45 Children's Books with Kate De Goldi: Chris McKimmie
New Zealand writer Kate De Goldi is the author of many books, most recently, The ACB with Honora Lee (Random House). She will discuss the work of Chris McKimmie:
Brian Banana Duck Sunshine Yellow (Allen & Unwin, 2006);
Maisie Moo and Invisible Lucy (Allen & Unwin, 2007);
Special Kev (Allen & Unwin, 2008);
Two Peas in a Pod (Allen & Unwin, 2010);
Good Morning Mr Pancakes (Allen & Unwin, 2011);
Alex and the Watermelon Boat (Allen & Unwin, 2012);
Scarlett and the Scratchy Moon (Allen & Unwin, 2013);
Crikey and Cat (Allen & Unwin, 2014).
This Saturday's team:
Producer: Mark Cubey
Associate Producer: Melanie Phipps
Wellington engineer: Carol Jones
Auckland engineer: Tony Stamp
Research by Infofind
Music played in this show
Glenn Gould:  J.S. Bach Invention N.13 in A Minor - BWV 784
From the 1994 album: Thirty Two Short Films About Glenn Gould
(Sony)
Played at around 10:15
Bryn Terfel with Miah Persson and Christine Rice, and the Scottish Chamber Orchestra conducted by Sir Charles Mackerras: Soave sia il vento, from Così Fan Tutte by Mozart
From the 2006 album: Tutto Mozart!
(Deutsche Grammaphon)
Played at around 10:30
The Rank Outsiders: Easy Street
Recorded at South Head Hall, Kaipara.
Played at around 10:35
Kuban Cossacks Choir: Katyusha
From the 2000 album: Caravay
(Caravay)
Played at around 10:55
Marlon Williams: Dark Child
The single from his forthcoming debut solo album, Marlon Williams
(Caroline)
Played at around 11:10
Marlon Williams: Heaven For You
Live in the Auckland studio of Radio New Zealand
Played at around 11:25
Marlon Williams: When I Was a Young Girl
Live in the Auckland studio of Radio New Zealand
Played at around 11:35