Saturday Morning for Saturday 28 February 2015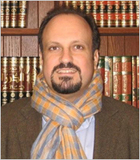 8:15 Bernard Haykel: Islamic State
Bernard Haykel is Professor of Near Eastern Studies, and Director of the Institute for Transregional Studies at Princeton University. He is a leading expert on the theology of Islamic State.

9:05 John McLeod: modern peacekeeping
John McLeod, ONZM, joined the New Zealand Army in 1979 as curator of the Army Museum in Waiouru, and retired 32 years later after a career that included operational service in Angola and Timor-Leste. He is currently responsible within the Defence Force for commemoration and heritage issues, and is the cross-agency lead for the 2015 Gallipoli commemoration. He is the author of the best-selling 1986 history, Myth and Reality: the New Zealand Soldier in World War II, and his new book, Elusive Peace: a Kiwi Peacekeeper in Angola (Steele-Roberts) tells the story of his time as a United Nations Military Observer in 1998.
9:45 Energy with David Haywood: the musical scale
David Haywood has a Ph.D. in engineering and lives in Dunsandel. He writes the Southerly blog for Public Address, and is the author of essay collection My First Stabbing, children's book The Hidden Talent of Albert Otter, and The New Zealand Reserve Bank Annual 2010 (all publicaddressbooks.com). He will discuss how energy gives us the musical scale.
10:05 Playing Favourites with Tayo Aluko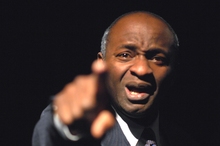 Nigerian-born, UK-based writer and performer Tayo Aluko is the creator and star of Call Mr Robeson: a Life with Songs. Based on the musical career and political activism of the US singer Paul Robeson, the show is currently receiving its New Zealand premiere with piano accompaniment from Wellington musical director Julian Raphael, at the NZ Fringe (supported by the Maritime Union of New Zealand), with performances at The Moorings on 27 and 28 February, and 1 March.
Photo: Stuart Hollis
Listen to a 1998 Spectrum recalling Paul Robeson's visit to New Zealand in 1960
11:05 Ulrike Schaede: old business in Japan
Ulrike Schaede is Professor of Japanese Business at the School of International Relations and Pacific Studies, University of California, and is an authority on Japanese business organisation, strategy and management. She has authored several books including Choose and Focus: Japanese Business Strategies for the 21st Century (Cornell UP, 2008), and has spent more than six years researching and studying in Japan. She has been a visiting scholar at the research institutes of the Bank of Japan; Japan's Ministry of Finance; and the Ministry of Economy, Trade and Industry. She will discuss the challenges facing old businesses in Japan, which has seven out of the ten oldest companies in the world.
11:45 Kate's Klassic: The Thorn Birds
Kate Camp is Communications Manager at Te Papa, and has published five collections of poems, most recently Snow White's Coffin (VUP). Kate will discuss The Thorn Birds, the 1977 novel by Australian author Colleen McCullough.
Music played in this show
Song: Isis
Artist: Bob Dylan
Album: Desire
Label: Columbia
Broadcast: 8:50
Song: How Then Should I See It
Artist: Bridal Path (Blair Parkes & David Haywood)
Free download
Broadcast: 8:58
Song: Also Sprach Zarathrustra
Artist: Berlin Philharmonic Orchestra, conducted by Karl Böhm
Album: 2001: A Space Odyssey
Label: EMI
Broadcast: 9:40
Song: Londonderry Air (Danny Boy)
Artist: Paul Robeson
Album: Ballad for Americans and Great Songs of Faith Love and Patriotism
Label: Vanguard
Broadcast: 10:15
Song: Zombie
Artist: Fela Anikulapo-Kuti
Album: The 1977 song from the compilation, The Best of the Black President
Label: Universal
Broadcast: 10:35
Song: Sweet Mother
Artist: Prince Nico Mbarga & Rocafil Jazz
Album:  The 1976 song from the compilation, Highlife Time, Vol. 2: Nigerian & Ghanaian Classics from the Golden Years
Label: Vampisoul
Broadcast: 10:50
Song: Bored in the USA
Artist: Father John Misty
Album: I Love You, Honeybear
Label: Bellaunion
Broadcast: 11:10
Song: Both Sides Now
Artist: Leonard Nimoy
Composer:  Joni Mitchell
Album: Spaced Out
Label: Universal
Broadcast: 11:35
Song: The Thorn Birds Theme
Artist: Henry Mancini
Album: Ultimate Mancini
Label: Telarc
Broadcast: 11:40