Afternoons with Jesse Mulligan for Tuesday 4 August 2015
1:06 Jesse Intro
1:13 Song You Gotta Hear
I Dreamed A Dream - Bic Runga
1:17 Rocky Horror Anniversay - Richard O'Brien
It's been 42 years since The Rocky Horror Show premiered, and Richard O'Brien is off to the UK to narrate it again next month.  Richard will perform in 11 special performances - including a star-studded gala performance - at the Playhouse Theatre in the West End.It comes as as the movie celebrates its 40th birthday next week.
1:34 The FIRE Economy - Professor Jane Kelsey
New Zealand has not learnt the lessons of the last global financial crisis.  So says the author of a new book.  While it's easy to blame greedy foreign bankers and the US subprime mortgage market, Professor Jane Kelsey says the problems are more systemic and that we need to make changes or the so-called rock star economy will fail again, perhaps more catastrophically than it did last time.
1:40 Feature Album: The Very Best of Fleetwood Mac
With Marina Dinsdale.
2:10 Piano Accordions - Maurice Jones
Maurice Jones is an internationally known piano-accordion entertainer.  He has frequently appeared on T.V. and Radio in New Zealand and has several international performances to his credit.  Maurice is easily New Zealand's most prolific SESSION accordionist - in fact that was him playing accordion on Herbs' 1982 hit French Letter.  Not only has he performed extensively all around the world, Maurice is also an importer of (very high-quality) Italian accordions and an expert in their repair and restoration.  And he's the owner of a very impressive collection of accordions at his home and business in the Auckland suburb of Takapuna.
2:15 Greatest NZ Concert - David Bowie at Athletic Park, 1983
The year was 1983, the month was November, and one of the cleverest, most inventive musicians of the time was on the cusp of global stardom, and playing Athletic Park in Wellington.
With Jeremy Ansell, John Baker, Jordan Luck and Hugh Lynn.
Set list for David Bowie at Athletic Park, Wellington 1983
On this tour David Bowie became the first major rock star to be officially welcomed onto a marae, and he composed a special song for the occasion - Bowie's Waiata.
Photo: David Bowie is welcomed onto Takapuwahia Marae in Porirua, Wellington, 1983. Courtesy of Ngati Toa.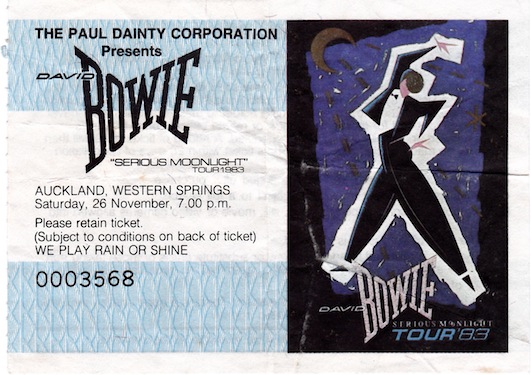 3:10 Stuart Canin - The Rifleman's Violin
70 years ago, Winston Churchill, US President Harry Truman and Soviet leader Joseph Stalin met in Potsdam, just outside Berlin, to discuss the fate of a defeated Germany in the aftermath of World War II. They would make decisions there that continue to shape the world today. A 19 year old Army Rifleman from New York City was called upon to play his part in the historic talks. Stuart Canin, a promising young violinist, took a cheap violin with him to war. He played for Churchill, Truman and Stalin as the conference started. Stuart Canin is now 89 years old. There's a new short documentary out that commemorates his extraordinary experience called The Rifleman's Violin. Stuart's story is also featured on an online archive called Potsdam Revisited: Overture to the Cold War, a project of Citizen Film and the Hoover Institution Library & Archives at Stanford University.  Stuart Canin joins us from Berkeley, California.
3:35 Our Changing World
A vertical cannon, a large siege catapult, medicine balls and silly putty are helping geologists better understand volcanic eruptions such as the one on Mount Tongariro in 2012. Alison Ballance joins a team at the University of Canterbury as they fire the cannon and let loose the silly putty.
3:45 The Panel Pre-Show
What the world is talking about. With Jesse Mulligan, Jim Mora and Noelle McCarthy.